Must-See Viewing
Viacom Can Finally Smile for the Camera
The owner of MTV and Comedy Central is strengthening its hand as it talks with CBS -- and perhaps other partners.
By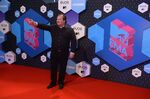 VIACOM INC-CLASS B
-0.10
At Closing, February 22rd
CBS CORP-CLASS B NON VOTING
-1.06
At Closing, February 22rd
Viacom Inc. is starting to shed its also-ran status.
The TV network operator reported fiscal  first-quarter results on Thursday, and yes, on the face of it, they largely reflected the kind of ongoing struggles we've gotten used to associating with the company. Ratings declines and subscriber losses pressured revenue, even as the recently passed tax legislation helped to lift earnings.
But there were also promising signs that the turnaround CEO Bob Bakish has undertaken since ascending to the CEO post in 2016 is starting to play out, just as my colleague Tara Lachapelle predicted it would. That should strengthen Viacom's hand as it prepares to evaluate a merger with CBS Corp. and consider other kinds of deals.
Interestingly, Bakish made a point on the earnings call of highlighting potential partnership opportunities. "You can get benefits of scale often without actually acquiring a company," he said. That could be a nod to the way the CBS talks are progressing. It's also not inconceivable that Viacom, like CBS, might have other options beyond a merger with its sister network operator (both are controlled by the Redstone family's holding company, National Amusements). That's even more true as Viacom -- the owner of MTV, Comedy Central and other cable networks -- finds its footing. 
Viacom improved its 2018 guidance for domestic affiliate revenues: it now expects a decline toward the low end of the mid-single digits, compared with a previous call for a mid-single digit drop. Obviously, this is still a decline, but 200 basis points less of a decline is meaningful when it comes to Viacom.
The company has said affiliate-fee growth should turn positive in 2019 after it inked distribution deals with Altice USA and Charter Communications Inc., but its path to get there was murky, notes Bloomberg Intelligence analysts Geetha Ranganathan and Paul Sweeney. The rosier outlook it delivered on Thursday should give investors more confidence in its recovery.
Domestic advertising revenue fell 5 percent in the quarter, reflecting what Nielsen estimated as an accelerated 13 percent decline in monthly prime-time viewership. But Viacom says this trend hit a bottom and it expects sequential improvements in advertising revenue throughout the year and growth in the fourth quarter.
Most intriguingly, Viacom said it was planning to launch a direct-to-consumer offering within the year. Details were sparse, but management touted tens of thousands of hours of content that it's been able to husband for its own strategic purposes by curtailing the amount that it licenses to third party offerings. Its product is meant to be complementary to multi-channel video programming distributors such as Dish Network Corp.'s Sling TV, rather than a competitor.
This will help Viacom catch up to others like Walt Disney Co., which is pushing aggressively into streaming offerings. Importantly for investors, any investments involved in the launch of this offering are already baked into guidance.  

There are still several rounds left to be played, but Viacom is working with a stronger hand.
To contact the editor responsible for this story:
Beth Williams at bewilliams@bloomberg.net
Before it's here, it's on the Bloomberg Terminal.
LEARN MORE