Count the Cost
NetEase's New Business Isn't Easy at All
E-commerce is a very crowded market.
By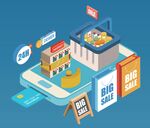 Let me start by giving kudos to NetEase Inc. for adding more transparency to its financial reports.
China's second-largest online games company has made a big push into e-commerce, so executives decided to break out the numbers for the first time. Data were previously folded in with email and other business units. E-commerce accounted for 32 percent of total sales in the fourth quarter, helping revenue almost triple over the past year.
NetEase needs this boost because its staple online games business has been suffering as old titles lose luster.
Unfortunately, the growth in e-commerce has come at a cost. A rush of promotions and discounts during the period means the division accounted for 49 percent of the total cost of revenue. That's not necessarily a bad thing -- new businesses usually need a bit of a leg up to gain traction, especially in a crowded market.
But it has dragged gross margins down to the lowest level in a decade, despite an uptick in advertising profitability.
While credit for greater transparency is deserved, it was disappointing to hear management duck questions during Thursday's investor conference call. Asked whether this recent high level of marketing spend could be expected to continue, executives gave a waffling response about expecting to reap a return on that investment. I'll take that non-answer as a "yes," but that doesn't help analysts trying to create an earnings model.
This is where investors need to be wary. E-commerce is a tough business, with Alibaba Group Holding Ltd. and JD.com Inc. already duking it out. And recent data indicate the market will get even more competitive. Alibaba, for example, raised its sales and marketing budget 90 percent in the December quarter, bringing it to 10 percent of revenue -- a figure that now exceeds its R&D budget.
There's no way NetEase can match that kind of spending, nor should it. But committing to e-commerce over the long term may mean some tough quarters ahead if its core games business doesn't rebound.
Investors have enjoyed great spoils from NetEase's focus on fun over the past few years. In this new era, they'll likely learn that e-commerce isn't easy.
To contact the editor responsible for this story:
Katrina Nicholas at knicholas2@bloomberg.net
Before it's here, it's on the Bloomberg Terminal.
LEARN MORE