On the Bright Side...
Macro Hedge Funds Rediscover Their Mojo
Less QE should mean more opportunity for profit.
By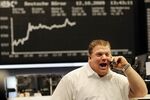 Hedge funds that try to earn a crust from speculating on the market impact of shifts in the economic and political background have starved in recent years. But the global macro gang is back.
Three of the best-known macro fund managers had a great January, according to reporting by my colleagues at Bloomberg News. Paul Tudor Jones's main pool gained 4.8 percent in January while Brevan Howard's climbed 2.4 percent, the biggest monthly return Alan Howard has delivered since November 2016. At Moore Capital, Louis Bacon's largest fund gained 5.7 percent through Jan. 25.
There's no simple explanation for the recent shenanigans that have wiped almost 7 percent off the value of global stock markets and seen the 10-year Treasury yield climb to a four-year high.
But central bank largess -- in the form of trillions of dollars of quantitative easing combined with record low official interest rates -- was largely responsible for driving equity indexes to record highs and bond yields to record lows.
The resulting so-called financial repression destroyed the price-seeking strategies that global macro hedge funds attempt to exploit, by artificially damping market volatility and distorting values.
So it seems reasonable to posit that at least some of the changes this year are driven by the growing realization that the guardians of monetary stability are tiptoeing toward normalization. Emboldened by an improved (and synchronized) economic backdrop, central banks are scaling back the stimulus provided by QE.
The gyrations in recent days will undoubtedly have produced winners and losers among the hedge-fund crowd. But if global macro managers can't make money in the current environment, it may be time for the former swashbucklers of finance to hang up their collective cutlasses.
To contact the editor responsible for this story:
Jennifer Ryan at jryan13@bloomberg.net
Before it's here, it's on the Bloomberg Terminal.
LEARN MORE