Taking Flight
Boeing Puts Suppliers on Notice
The target is a bit of a weird choice, but Boeing's aggressiveness in growing its services business is real.
By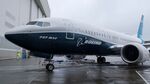 The aerospace industry better be ready for Boeing Co. to become even more of a behemoth.
The plane maker has reportedly held preliminary talks about acquiring Woodward Inc., a $5 billion maker of cockpit controls and fuel-metering units. No deal is imminent, and truth be told, Woodward is a weird choice (more on that later). But the fact that Boeing would contemplate a deal of this magnitude -- on top of its efforts to strike a combination with another $5 billion company, Brazilian regional jet-maker Embraer SA -- is telling.
Boeing's last acquisition of more than $5 billion was the 1997 purchase of McDonnell Douglas Corp. It's a testament to the massive cash haul the company's anticipating over the next few years that it's venturing back into big dealmaking. Boeing is flush thanks to a surprisingly smooth transition to updated models of the 737 and 777, the maturation of the 787 Dreamliner program and aggressive cost-cutting efforts.
While a deal with Embraer seems to be a reaction to an ill-advised trade dispute with Bombardier Inc. and the Canadian company's subsequent agreement to sell a majority stake in its C-Series program to Airbus SE, a combination with Woodward would mesh with Boeing CEO Dennis Muilenburg's dream of building a $50 billion services business over the next decade.
The idea behind this gambit is to give Boeing more control over its supply chain and to push the company into more profitable and less volatile areas of the aerospace industry. Woodward, for example, had an Ebitda margin of 16.7 percent in fiscal 2017, compared with 13.2 percent at Boeing. It's a logical move, but with Boeing's services division generating $14.6 billion of sales last year, it has a ways to go to reach its $50 billion goal. What's interesting is Boeing had previously indicated it would primarily build rather than buy its way to a services business of this scale.
The company's attitude has clearly changed, perhaps because of the pending merger of United Technologies Corp. and Rockwell Collins Inc. Boeing's accelerated investment in services should give investors in those companies pause. That merger is predicated in part on the idea that increased scale will give the aerospace suppliers more negotiating power with Boeing. The more Boeing can chip away at their market share with its own internal efforts, the less that leverage matters. 1
As far as Woodward goes, the company is a complicated target. More than a third of its revenue comes from an industrial division that makes controls for gas turbines and factory-automation tools. Boeing could sell that business, but it will also have to sort out Woodward's joint venture with General Electric Co. for fuel systems.
Woodward is also a major supplier to Airbus, notes CL King analyst George Godfrey. It seems unlikely that Airbus would be thrilled by a Boeing takeover, which could put a good deal of Woodward's earnings at risk and spark regulatory pushback. Boeing may not care that much if its primary goal is to bring the underlying technology in house, but that's a harder sell to investors, particularly given Woodward's rich valuation. This was one reason it made more sense for Boeing to build its services business organically: Whatever company it buys likely sells to Boeing's competitors.
Whether or not a Woodward deal materializes, it should be abundantly clear to United Technologies and other aerospace suppliers that Boeing is only going to get more aggressive when it comes to capturing some of their lucrative profit margins.
To contact the editor responsible for this story:
Beth Williams at bewilliams@bloomberg.net
Before it's here, it's on the Bloomberg Terminal.
LEARN MORE