Conflict-Free Zone
BlackRock's Private Equity Advantage
A fund designed to invest in companies for longer than a decade comes with fewer potential conflicts than those managed by industry leaders.
By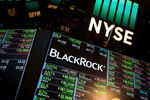 BLACKROCK INC
-2.98
As of 12:45 PM EDT
CARLYLE GROUP/THE
-0.05
As of 12:45 PM EDT
It's no secret that private equity investors are increasingly willing to lock up their money for longer. But rather than let the firms that dominate this part of the finance industry share all the spoils, Larry Fink's BlackRock Inc. wants in, too.
The New York-based asset manager is seeking to raise more than $10 billion to invest in closely held companies with the intention of hanging on to these investments for more than 10 years. The firm's new fund, known as BlackRock Long-Term Private Capital, is looking to tap into demand from investors -- mainly sovereign wealth funds, pension funds and family offices -- the way Carlyle Group LP and Blackstone Group LP have in raising billions of dollars for similar long-dated pools of capital.
It's a relatively unexpected departure for BlackRock, which has amassed trillions under management as a champion of low-cost, passive investing. But the move into longer-term private equity may be worthwhile because it gives BlackRock the chance to offer something that most firms in the industry can't: the potential for far fewer conflicts.
When it eventually seals transactions for its new venture, BlackRock doesn't have to worry about existing funds that could be perceived to be overlooked. Compare that to Blackstone or Carlyle, which must explain to their myriad investors why certain deals are an appropriate fit for the long-duration funds but not their flagship or sector-focused buyout vehicles, or why two separate funds should be able to invest in the same deal but at different levels of a company's capital structure (such as preferred and common equity).
For a real-world example, BlackRock won't find itself navigating a situation that Carlyle found itself in just two months ago. That's when executives within its long-duration fund paid a hefty price to buy a stake in a money manager, TCW Group Inc., that was held by two of Carlyle's older funds. Those funds got to lock in a tidy profit, and while the transaction arguably made sense for everyone involved, the unusual arrangement could raise questions about Carlyle's ability to serve the interests of all investors.
Depending on how returns shape up, it's possible that over time, longer-duration funds or strategic partnerships such as those inked by KKR & Co. may cannibalize some investor interest in traditional funds. While they tend to generate slightly lower returns than regular buyout vehicles, longer-term funds are also lower-fee by nature and that could be a draw. BlackRock could place greater pressure on incumbents by setting the bar with even lower management fees. 
Regardless of where fees shake out, one issue BlackRock and any other firms with long-dated private equity investment strategies face is the challenge of attracting and retaining capable dealmakers who are willing to accept relatively delayed compensation. Traditional funds sell stakes in businesses after three to five years, and tend to pay out a percentage of profits, known as carried interest, on a deal-by-deal basis. 1  Private equity executives managing these funds can expect to receive checks that end with six or even seven zeroes fairly regularly, but if they pivot into overseeing longer-term funds, they must wait at least a decade.
With its long-term fund, BlackRock is targeting minority stakes, though exact details are scant. I'm hopeful this strategy will avoid the easy route of investing in concert with the long-duration funds established by the industry's stalwarts because that would be akin to the option of co-investing that's already available to a large chunk of private equity investors. If it is the case, though? The biggest sovereign wealth funds, pension funds and family offices are better off paying up to hire executives who can pursue long-time deals of their own.
As for those with smaller checks who likely already have cash parked with BlackRock in equities or elsewhere and are seeking ongoing diversification? It's understandable that they're willing to hand over more.
As you probably know, carried interest gets favorable tax treatment.
To contact the editor responsible for this story:
Beth Williams at bewilliams@bloomberg.net
Before it's here, it's on the Bloomberg Terminal.
LEARN MORE