long-sightedness
Masa Is Blinded by His Own Vision
SoftBank needs to think a little more short term.
By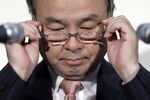 ALIBABA GROUP HOLDING-SP ADR
-0.07
At Closing, February 22rd
SPRINT CORP
-0.12
At Closing, February 22rd
SoftBank Group Corp.'s management is frustrated by the discount at which it trades, and that may be a key reason why the Japanese company has decided to spin off its domestic telco.
Wednesday's earnings announcement -- operating profit missed estimates -- shows just why equity investors think Masayoshi Son's Tokyo-listed flagship is worth far less than the sum of its parts. Its myriad holdings -- which include a stake in Chinese internet giant Alibaba Group Holding Ltd., U.S. phone operator Sprint Corp., and Yahoo Japan Corp. -- tally to at least $180 billion, while its shares trade at half that, Bloomberg's Pavel Alpeyev wrote in an incisive look at the phenomenon. 
SoftBank executives track the depth of the discount on a weekly basis, he wrote.
Supporters laud Masa for his savvy backing of Alibaba all those years ago, yet the track record for the businesses that he actually operates is spotty at best. His investment acumen, meanwhile, may not be as brilliant as many believe, a point outlined in a Bloomberg News feature story last month. Most recently, losses at Sprint are more rule than exception and its smartphone distribution business is once again unprofitable. 
Perhaps the most pertinent justification for the Masa Discount, though, comes from the reversal of fortunes at ARM Holdings Plc, the U.K. semiconductor technology developer he bought with great fanfare in 2016. After almost 20 years of uninterrupted annual profits prior to SoftBank's takeover, ARM just posted its third consecutive quarterly loss. 1
Cheerleaders may point to the fact that the British company has expanded its workforce since being acquired, evidence that the new owner is investing in the future of what is a research-intensive business. Yet ARM's previous management team was able to grow headcount and create one of the world's most influential technology companies while still avoiding red ink. 2
Masa likes to think of SoftBank as having a 300-year plan, and he now has more than $65 billion of other people's money to make that happen, 3  but stock markets trade by the millisecond and fund managers are assessed by the quarter.
By spinning off and listing its most lucrative business, he is at least acknowledging the need to deliver value sometime during our lifetimes. If Masa wants to narrow that deep discount, he'll need to start thinking just a little more short term.
SoftBank ascribes the loss, primarily, to amortization of intangible assets. That said, adjusted Ebitda at ARM fell 30 percent in the December quarter and 66 percent in the prior quarter, capping five Ebitda declines in six quarters.
To contact the editor responsible for this story:
Matthew Brooker at mbrooker1@bloomberg.net
Before it's here, it's on the Bloomberg Terminal.
LEARN MORE