Iron discipline
Lead Rio Tinto Not Into Temptation
Eventually, demand for raw materials will overcome spending restraint.
By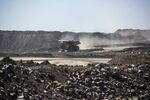 RIO TINTO PLC
-19.00
At Closing, June 21st
BHP BILLITON LIMITED
+0.16
At Closing, June 21st
You might think that being the world's most profitable mining company is a nice position for Rio Tinto Group.
With net income of $8.76 billion announced in annual results Wednesday, Chief Executive Officer Jean-Sebastian Jacques has more profit at his disposal than his peers at Glencore Plc and BHP Billiton Ltd. The problem is, what to do with it?
Shareholders see a simple solution: Gimme.
On this front, Jacques has been no slouch: Two pages of Rio Tinto's presentation outline the $6.3 billion of dividends and buybacks handed to shareholders last year, plus a $1.9 billion lump awaiting distribution and $4.2 billion of payouts announced alongside the results.
You can get a sense of the forbearance embodied in this if you consider mining companies alongside similarly profitable businesses.
Rio Tinto, BHP and Vale SA are all making Ebitda margins north of 40 percent these days. That puts them in select company: There are only about 60 businesses worldwide with that scale that match those levels. Of those, 10 are miners and another six are in oil and gas. By comparison, the likes of LVMH Moet Hennessy Louis Vuitton SE, Kering and Cie Financiere Richemont SA rarely see margins above 30 percent.
With so much money coming in the door, a circumspect company should pay a little attention to the future. Our group of 60 profit giants dedicate a median 15 percent of their annual sales to capital expenditure, and for the six oil and gas businesses, the ratio is 36 percent. Miners -- which might be expected to spend more heavily, given that their key assets literally run out -- are stuck at 13 percent, and Rio Tinto is on 11 percent.
This can be a nice problem for a miner to have. On one hand, a constant stream of payouts encourages shareholders to forget the money you set on fire during the last boom; on the other, your underinvestment in developing new assets ought sooner or later to tighten commodities markets, driving prices and profits up further.
The risk to that picture, though, is that sooner or later the party line breaks and one of the big players makes a grab for market share. With BHP under pressure from shareholders, and Vale and Glencore still grappling with debt loads above $20 billion, Rio Tinto is best-placed to make that switch -- but for the moment Jacques is forecasting that capex will rise only to $5.5 billion this year and to $6 billion a year in 2019 and 2020. 1
From the perspective of investors, that forecast exhibits admirable discipline -- and for the moment they're rewarding Jacques with a share price that's steadily climbed, relative to blended forward 12-month cashflows, ever since 2011.
Still, something has to give eventually. The world's demand for raw materials is one force of nature that's even more insatiable than dividend-hungry shareholders.
This Gadfly still thinks that Rio Tinto could do worse than make a play for Alcoa Inc., though it's no longer as cheap as it was 12 months ago.
To contact the editor responsible for this story:
Paul Sillitoe at psillitoe@bloomberg.net
Before it's here, it's on the Bloomberg Terminal.
LEARN MORE