Paper Chase
L.A. Times Sale Revives the Tronc-Gannett Story
Tronc would be easier to swallow, and it also helps that Gannett is on better terms with its own shareholders.
By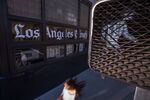 NEW YORK TIMES CO-A
+0.40
At Closing, June 15th
GANNETT CO INC
-0.05
At Closing, June 15th
The sale of the Los Angeles Times could finally bring Tronc Inc. and Gannett Co. together.
Tronc, the newspaper company formerly known as Tribune Publishing, said Wednesday it's selling the L.A. Times, the San Diego Union-Tribune and other California titles to notorious biotechnology billionaire Patrick Soon-Shiong for $500 million, plus the assumption of $90 million in pension liabilities. Tronc will use the proceeds to pay down debt, giving it a bounty of cash to spend on acquisitions.
That's a stark reversal from a few years ago, when Tronc's overloaded balance sheet forced the company to accept an equity infusion from Chicago investor Michael Ferro and made it prime takeover bait for Gannett, the publisher of USA Today.  
Soon-Shiong isn't just any old billionaire; he bought a large stake in Tronc in 2016 to help Ferro fend off Gannett's takeover advances. That stake has since grown to 26 percent even as Soon-Shiong and Ferro had a public falling-out last year that saw the former booted from the board amid accusations of trading violations and the latter accused of biased corporate governance practices. Amid the fracas, Tronc accused Soon-Shiong of angling to buy the L.A. Times, but vowed not to sell it unless there was a deal for the whole company. Tronc appears to have had a change of heart.
Working in Soon-Shiong's favor is the fact that Tronc has just never seemed to figure out how to capitalize on the L.A. Times' reputation and journalistic capabilities. A plan to bring in outside contributors caused more friction among already anxious employees, who voted to unionize last month. Publisher Ross Levinsohn was placed on leave last month amid allegations of sexual harassment at previous jobs, and yet another new editor-in-chief was appointed to get things back on track. 1
It also helps that the $500 million price is a doozy. It works out to about 7 times the Ebitda of the California papers, including an allocation of corporate costs.  If you account for the assumed pension liabilities, its about 8 times. Either way, it's a discount to what Jeff Bezos paid for the Washington Post in 2013 and what Nikkei Inc. paid for the Financial Times in 2015, as well as what the New York Times Co. commands in the public markets. But bear in mind, Gannett reportedly offered an equity value of $683 million, or $18.75 a share, for all of Tronc before ultimately scrapping the deal amid pushback from its bankers, who were wary of financing a deal at such a high valuation, given the deterioration of the business.
The California papers being sold account for a little more than 40 percent of Tronc's adjusted Ebitda over the last 12 months, as reported by the company in its regulatory filings, according to data compiled by Bloomberg. The math is rough given the allocation of corporate costs, but that implies a valuation of more than $1.2 billion for the entire company, or more than $35 a share.
That hardly seems the way Ferro wanted things to go, given his aspirations of a cross-country news network that he could morph into a profitable, growing enterprise via artificial intelligence and heavy cost cuts. But you have to admit, he's at least been vindicated in his argument that Gannett's earlier bids of $12.25 and $15 a share undervalued the company.
Now the question is whether Gannett decides to bid on the remaining papers in Tronc's empire, which include the Chicago Tribune and, as of last year, the New York Daily News. The L.A. Times wasn't vital to Gannett's strategy of using scale to cut costs, negotiate better deals with advertisers and add heft to its digital platform. After coping with some earnings setbacks of its own, Gannett is now on surer financial footing and on better terms with its shareholders. An L.A. Times-less Tronc is an easier deal to swallow. 
As far as the L.A. Times goes, it's worth noting that Soon-Shiong shouldn't necessarily be viewed as some heroic savior. He doesn't have a background in journalism. He's talked a big game in the past about using machine vision technology to allow readers to generate video based on photos in physical newspapers by sliding a camera across the page. But it's never made much sense to me why anyone would choose to do that as opposed to, I don't know, Googling a video of said thing. Soon-Shiong's NantWorks also supplied image recognition technology to toymaker Jakks Pacific Inc., and let's just say the partnership wasn't as "transformative" as billed.
If Tronc ends up in the arms of Gannett, will the L.A. Times staff be the ones who end up feeling like the odd ones out?
To contact the editor responsible for this story:
Beth Williams at bewilliams@bloomberg.net
Before it's here, it's on the Bloomberg Terminal.
LEARN MORE