THEY CONNECT
Confused by China's HSBC Love? Check Out the Ex
The grass really is greener in this case. Besides, they have a connection.
By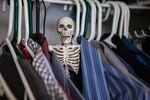 HSBC HOLDINGS PLC
-11.80
At Closing, June 15th
The one thing Chinese investors have learned from black swan events like Brexit is that global market sell-offs present nice buying opportunities.
In the first two days of this week, they bought a record HK$16 billion ($2 billion) net of Hong Kong shares through the connect programs that link the city's market with the Shanghai and Shenzhen stock exchanges, unfazed by the Dow's worst intraday points plunge in history.
The target of their interest may surprise some, though. Mainland buyers didn't bottom-fish their beloved Tencent Holdings Ltd., or pile into the fattening bond yields of the largest domestic banks. They went for HSBC Holdings Plc, purchasing a net more than HK$5 billion of stock. Through the connect, Chinese investors now own 5.7 percent of HSBC's shares, up from 2.3 percent last March, according to data collected by Hong Kong Exchanges & Clearing Ltd. 
To be sure, some of the buying can be attributed to the impressive performance of the London-based bank's stock, which returned about 88 percent from its post-Brexit-vote trough in June 2016 through Tuesday. Then again, China Construction Bank Corp.'s 77 percent return isn't too shabby either. So why do they love HSBC so much?
The answer is good corporate governance, and HSBC's long track record of caring for shareholders. Throughout 2015 and 2016, sell-side analysts muttered about whether the British bank could maintain its generous dividends. But even as it posted losses and cut jobs, HSBC didn't hurt small investors by reducing payouts.
Compare that with the horror stories unfolding in mainland China. 
The most famous is Leshi Internet Information & Technology Corp., the sixth-largest company on the Shenzhen Stock Exchange during the bull-market excesses of 2015. Leshi has fallen by the 10 percent limit for 11 consecutive days since it resumed trading on Jan. 24 after a painfully long nine-month halt. As I have written, the victims include not only hapless individual investors but also mutual funds and brokerages that provided margin financing on Leshi's pledged shares.
Leshi added insult to injury by warning in a Jan. 30 filing that it had incurred an 11.6 billion yuan ($1.8 billion) net loss in 2017, more than all the profits the Beijing-based company had reported in the past decade. Investors in China can only watch, count their losses and nurture more doubts over the integrity of the mainland's stock markets.
Another scare story that's unfolding concurrently is Zhangzidao Group Co., once China's largest listed seafood producer. On Jan. 31, the company posted a loss of 629 million yuan for 2017, compared with net income of 79.6 million yuan a year earlier. Zhangzidao blamed declining rainfall and abnormal sea temperatures for destroying its scallop harvest.
It's not the first time the Dalian-based company has issued this sort of profit warning. On Oct. 30, 2014, Zhangzidao said millions of its baby scallops had been killed by a cold ocean current, pushing the company to a loss. Zhangzidao's latest annual results were all the more shocking because the company in October had reported 77.7 million yuan of net income for the first nine months, a 145 percent jump from a year earlier.
Fool me once, shame on you; fool me twice, shame on me. From their share-price peaks to the present, Leshi and Zhangzidao have lost 133 billion yuan and 11.7 billion yuan of market value respectively.
This brings us back to HSBC and the Hong Kong market. While the city has had its share of corporate governance scandals, such as Hanergy Thin Film Power Group Ltd. and the so-called Enigma network, it's a lot safer than mainland China. 
Spikes in volatility, which can cause investors in other markets to take fright, are also no deterrent for mainland buyers: They've seen it all before. Since 2013, the Hang Seng Index fell more than 2 percent on 33 occasions. Over the same period, declines of that magnitude occurred 59 times on the Shanghai Composite Index and 117 times on the ChiNext Index, the country's equivalent of the Nasdaq, data compiled by Gadfly show.
People in China all know that the word "crisis" consists of two characters, one meaning danger, the other opportunity. To them, sell-offs in Hong Kong are signals to buy on the dips: At least there are fewer skeletons in the closet (or under the sea) to worry about.
To contact the editor responsible for this story:
Matthew Brooker at mbrooker1@bloomberg.net
Before it's here, it's on the Bloomberg Terminal.
LEARN MORE