Lemonade
Anadarko and Pioneer Won't Waste a Good Crisis (or OPEC's Help)
Both oil companies adapted to lower prices and are reaping, and paying, dividends.
By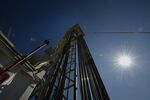 ANADARKO PETROLEUM CORP
+2.54
At Closing, February 23th
PIONEER NATURAL RESOURCES CO
+2.59
At Closing, February 23th
Investors in Anadarko Petroleum Corp. and Pioneer Natural Resources Co. can thank Vienna for some bigger dividend checks coming their way. They can also thank themselves.
A year ago, as he delivered first-quarter results, Anadarko's CEO Al Walker made a hopeful prediction for 2017:
From a global perspective, we're beginning to see some encouraging demand improvements and supportive supply actions. And I continue to feel strongly that we have a very good chance to see an average WTI [West Texas Intermediate] oil price in 2017 of $60.
As it turned out, despite the Vienna group of OPEC and non-OPEC countries' first year of supply cuts, WTI didn't even scrape that level until the day after Christmas, and averaged less than $51.
Besides proving the rule that oil executives should never predict oil prices, Walker's miss reflected a more profound problem that Anadarko, along with many of its peers, grappled with last year.
Thankfully for Anadarko, its grappling was largely successful, as Wednesday's results showed. It beat expectations across the board in the fourth quarter: earnings, cash flow, overall production and, within that, oil output. More importantly, Anadarko quintupled its quarterly dividend and added another $500 million to its share buyback program.
Anadarko's corporate motto at this point could be: "We get it." Just over two years ago, Anadarko compounded its shareholders' pain from a falling oil price with a clumsy, failed takeover approach to Apache Corp. An 81 percent dividend cut followed soon after. A year on, Walker's hopeful comment about oil prices in 2017 -- coming just as the Vienna Group's supply cuts began -- suggested Anadarko was still banking on a cyclical recovery to lift its fortunes.
When that didn't happen, and with activists prowling in the shale patch, Anadarko abruptly switched course to self-help in September with a $2.5 billion buyback announcement. A couple of months later, Walker effectively refuted his earlier hopeful comments by scaling back growth targets and committing to generating returns at $50 oil. That approach was reaffirmed on Wednesday -- with the added bonus that supply cuts from the Vienna Group, among other things, have helped push oil into the $60s and kept it there even through the recent sell-off. If prices hold at that level, then Anadarko expects to generate an extra $1 billion of cash flow in 2018 -- but, importantly, it would keep prioritizing returns to shareholders.
Pioneer delivered a similar message the same morning -- only more so. It similarly had a come-to-Jesus moment in 2017 after aggressive plans laid out early in the year gave way to operating mishaps and a sharp drop in the stock:
Like Anadarko, Pioneer responded by the fall with changes to growth targets and executive compensation -- with more emphasis on returns -- to soothe shareholders. And again, having reported similarly strong results on Wednesday, Pioneer reaffirmed a mantra of focusing more on returns rather than growth. It quadrupled its dividend and announced a modest buyback, as well as laying out a path to $50 break-even oil prices by 2020.
More radical, however, was the announcement that Pioneer will sell off its assets outside of the Permian basin, ground zero for U.S. oil production growth and, as the company's figures show, margins:
The outsize cash margins in Pioneer's Permian fracking business make it a no-brainer to focus its attention there. It also should give Pioneer a shot at closing the valuation gap with arch-rival EOG Resources Inc., as the stock will offer a pure play on the hottest property in the onshore U.S. -- and, it has to be said, a cleaner potential acquisition target at a time when domestic oil majors are rediscovering their love of home:
There may be a lesson in there for Anadarko, too. Its mini-major model encompassing a swath of onshore and offshore U.S. assets as well as large international positions, is still out of sync with the more-focused model for which investors have been showing a preference. While the pivot in emphasis to shareholder returns and cost control is a huge step forward, the potential for greater transformation is there -- especially if those guys in Vienna keep helping out in the background.
To contact the editor responsible for this story:
Mark Gongloff at mgongloff1@bloomberg.net
Before it's here, it's on the Bloomberg Terminal.
LEARN MORE