Market in Turmoil
Volatility's Return Has One Side Benefit
Investors can expect more pricing power in stock offerings.
By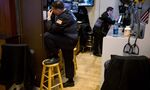 The turmoil in the stock market should give back some negotiating power to investors being tapped up to buy big blocks of shares in initial public offerings and stock sales. They certainly needed it.
Seemingly ever-rising markets were a gift to companies seeking to sell new stock to fund takeovers, and to private equity firms looking to exit investments through IPOs. Investors desperate to catch up with the bull market probably felt pressured to lap up new offerings without taking much of a discount.
That price incentive on newly minted shares, or big blocks of existing stock, is there to compensate the buyer for the risk of losing money on the purchase. As stock volatility jumps -- as in recent days -- so the risk of loss rises and discounts should widen.
On Tuesday morning, the V2X index of European stock volatility was at 27, against a 2018 low of 10.9 in the second week of the year. A figure above 20 usually makes it hard to pull off an IPO.
Could the uptick in volatility push the expectations of buyers and sellers far apart? Bankers have been talking of a huge big pipeline of IPOs in store for Europe, but not many deals had started by the time markets started falling last week.
So long as the sell-off abates and markets stabilize, it ought to be possible to get IPOs done. Vendors may have to rein in punchy price expectations. Investors can afford to be picky. The skill will be to push discounts wider than is justified by the step-up in volatility, so buyers get more value relative to the riskiness of the deal on offer.
The crumb of comfort for European issuers is that market there hasn't fallen as far from its peak as its U.S. counterpart. Valuations on forward earnings multiples are lower in Europe. That helps those who have no choice but to sell stock.
Ocado Plc said on Tuesday it would tap shareholders for funds -- despite the terrible market backdrop and a set of poor results. Bayer AG will need to complete a mammoth rights offering to fund its purchase of Monsanto Co., assuming it can assuage antitrust regulators.
Perhaps volatility will return to its historic lows. But just as the cost of debt financing is rising, the rout looks set to make equity financing more expensive too. That has to be dampener on the IPO market and, potentially, M&A as well.
To contact the editor responsible for this story:
Edward Evans at eevans3@bloomberg.net
Before it's here, it's on the Bloomberg Terminal.
LEARN MORE