Wrong Way
Toyota's China Crisis
The carmaker has neither the models nor the manufacturing capacity.
By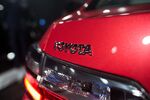 TOYOTA MOTOR CORP
+34.00
As of 9:30 PM EST
GEELY AUTOMOBILE HOLDINGS LT
+1.90
As of 10:33 PM EST
The world's biggest carmaker 1 and the world's biggest car market should be made for each other. So why is Toyota Motor Corp. misfiring in China?
As recently as 2015, it was the No. 2 marque in the country, behind the eternally dominant Volkswagen AG. 2  Since then, though, sales have flatlined, while rivals have picked up their game. In December, even Hyundai Motor Co. -- still recovering from an informal boycott thanks to political tensions between South Korea and China -- shifted more units, leaving Toyota barely clinging on in the top 10.
Part of the problem lies in its model range. The category that's taken the Chinese market by storm has been the subcompact SUV, which fits the styling of a Land Cruiser into the parking space of a Corolla. Toyota hasn't had a contender in that segment, leaving the market wide open for the likes of Honda Motor Co.'s XR-V and Geely Automobile Holdings Ltd.'s Emgrand X7. The roll-out this year of the C-HR, with a high top and a wheelbase barely longer than a Yaris, should help matters -- but it's late to the game.
There's also a shortage of manufacturing capacity. A target of selling 1.4 million cars in China during 2018 should be considered a "stretch goal" that will be hard to achieve without upgrading production lines, Reuters reported last week, citing company insiders. Even then, Toyota would almost certainly find itself trailing VW, Honda and Geely -- not to mention General Motors Co., which shifted more than 4 million units last year if you put all its marques under a single umbrella.
One could argue that a company with almost half of Japan's domestic market that's gunning against Ford Motor Co. for the No. 2 position in the U.S. can afford to bide its time -- especially given the changes looming as Beijing strives to electrify the country's auto industry. In Europe, Toyota has been perfectly happy for many years with a market share that trails even premium marques like BMW AG and Daimler AG, and in India it's a relatively minor presence.
Financial results out Tuesday showed Toyota generated operating income of 673.6 billion yen ($6.2 billion) for the third quarter, beating estimates. The Japanese carmaker also raised its profit forecast for the third time this fiscal year, helped by America's love for SUVs. Operating profit is now expected to rise to 2.2 trillion yen in the 12 months ending March 31, from a 2-trillion-yen forecast in November.
Toyota also has some potential strengths in China that may be underappreciated. Its sales of hybrid cars there have been dismal of late, with the mighty Prius typically shifting no more than a few dozen a year -- but with plug-in hybrid versions of the Corolla and Levin models reported to be coming, that could turn on a pin.
Beijing plans to treat plug-in hybrids -- which use batteries as their main power supply, rather than conventional hybrids that are mainly dependent on the engine -- as essentially the same as fully electric cars. Given the steep learning curve that fully electric vehicles are facing to fulfill China's mandates and make a profit, that halfway-house approach might prove potent for Toyota.
Still, no automobile company with ambitions to global dominance can afford to let things slide in the world's biggest car market. Nor one that wants to keep on the right side of its local joint venture partners, FAW Car Co. and Guangzhou Automobile Group Co.
With Geely in aggressive expansion mode, Nissan Motor Co. planning to spend 1 trillion yen in China to crack the electric car market, and even Hyundai and Kia Motors Corp. targeting 1.35 million units in the country this year after a horror 2017, Toyota risks being left behind.
Patience is a virtue -- but if you're not aiming at pole position, you risk ending up in the pits.
To contact the editor responsible for this story:
Katrina Nicholas at knicholas2@bloomberg.net
Before it's here, it's on the Bloomberg Terminal.
LEARN MORE