Greenhill's Uphill Climb
This Boutique Bank Stands Out, But Not in a Good Way
Greenhill's CEO called the firm's miserable 2017 an "aberration"  -- but it has its work cut out to ensure this year isn't a repeat.
By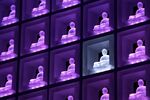 Greenhill & Co. Inc.'s most recent report card included some superlatives -- just not the type to boast about.
The New York-based advisory firm delivered fourth-quarter results on Tuesday afternoon that were broadly worse than expected. Although revenue was better than hoped, the firm posted its second quarterly loss in a row. Not only that: for the full year, Greenhill reported its first annual loss and worst revenue haul since 2008. 
It's an abominable result, especially when rivals across Wall Street including Lazard Ltd., Evercore Inc. and Houlihan Lokey Inc. all managed to achieve record revenue during the same calendar year. Perhaps it has something to do with all the rainmakers that Greenhill has lost in recent years? And the departures haven't slowed, indicating that senior bankers aren't overly confident in the firm's future or the value of its stock as part of their overall compensation. 
Earlier this month, Moelis & Co. said it had poached Greenhill's co-head of financial technology advisory as well as the head of its life-sciences advisory. The latter could especially sting Greenhill because -- as my colleague Max Nisen has detailed -- biotech M&A is back with a vengeance. Even accounting for new hires in 2017, the bank has just 71 managing directors today compared to 77 this time last year. 
Considering Greenhill's lackluster activity throughout much of 2017, the firm's paltry performance is hardly a surprise. After all, it did end last year ranked 47th according to Bloomberg's global mergers and acquisitions league table, some 30 positions lower than the level reached during its 2007 and 2008 heyday. Plus, like a suite of other financial institutions, it was always going to have to take a charge as a result of the impact of the new tax legislation on its deferred-tax balance. So it's no wonder investors have been betting against it:
Is a turnaround in sight? If recent activity is anything to go by, 2018 is certainly shaping up to be better than 2017 (a year CEO Scott Bok characterized as an "aberration" on the firm's earnings call). After a hiatus from advising on $1 billion-plus transactions dating back to January 2017, Greenhill broke its drought in mid-December and will reap fees from four such deals. The biggest is Ladbrokes Coral Group Plc's roughly $5.5 billion sale to rival bookmaker GVC Holdings Plc. 1
There's no guarantee that clients won't take their business elsewhere if they decide that the firm is conflicted. At the end of the day, Greenhill must prove it's able to balance its duty to provide the best possible advice against an incentive to facilitate deals that generate the lucrative fees it needs to sustain itself, which includes covering hefty compensation expenses. 
Even if the firm's clients remain loyal and any continuing market volatility creates fresh opportunities for its restructuring arm, Greenhill will be playing catch-up for a while. Remember, an aggressive recapitalization in October has saddled the firm's balance sheet with $350 million in debt, much of which will be used to repurchase stock. While those buybacks aren't yet complete, its shares have tumbled some 14 percent to $16.80, outpacing the S&P 500 Index which has erased most of its gains but still remains in the green for the year.
For now, not a single Wall Street analyst recommends the stock as a buy. As much as Greenhill's management predicts an improvement in 2018, the firm can forget about regaining the confidence of investors until or unless it can string together consecutive strong quarters. That same uncertainty is likely to discourage interest in a management buyout from potential partners such as a private equity firms or sovereign wealth funds. 
Absent that white-knight scenario and without a demonstrable path to sustainable earnings, the firm, its chairman Bob Greenhill and CEO Scott Bok -- who both bumped up their respective ownership as part of its recent restructuring -- remain stuck in an unenviable position.
As my Gadfly colleagues pointed out, it also landed a role on McDemott International Inc.'s pending purchase of Chicago Bridge & Iron Co..
To contact the editor responsible for this story:
Beth Williams at bewilliams@bloomberg.net
Before it's here, it's on the Bloomberg Terminal.
LEARN MORE