What Next?
Four Charts to Navigate the Melting Markets
Context is the key to understanding what might happen next.
By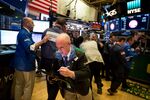 "Nobody knows anything," screenwriter William Goldman wrote in his book about the movie business, Adventures in the Screen Trade. Bearing that in mind, here are two charts that suggest the rout in equity markets in recent days is justified -- and two that suggest the moves are overblown.
Inflation Is Stirring
The current market stampede's most immediate cause -- or excuse, depending on your view -- were Friday's figures showing U.S wage growth accelerated by 2.9 percent in January, which exceeded economists' forecasts of 2.6 percent.
After consistently being weaker than the consensus estimate in recent years, U.S. consumer price increases have been bang in line for three consecutive months and have exceeded the Federal Reserve's 2 percent target in three of the past four months.
So the concern among market watchers is that inflation will start to outpace expectations this year. "It's still too early to reallocate, but it isn't premature to hedge," JPMorgan said in a research note published Monday.
The Return of Volatility
The drop in equity markets has rippled into the options market, driving the Chicago Board of Options Exchange volatility index to its biggest-ever one-day percentage move. But it's not just stocks that are displaying a newfound appetite for price swings.
The VIX index's fixed-income cousin, Merrill Lynch's MOVE index, has spiked up to its highest since May 17. And the currency market equivalent, Deutsche Bank's CVIX index, is also on the move, albeit only to its highest level since Sept. 20.
A synchronized return of volatility across the three major asset classes will hurt any hedge funds that have been betting that placidity would continue to reign. As Warren Buffett warned, we only learn who is swimming naked when the tide goes out.
Context Counts
The Standard & Poor's 500 index is down almost 8 percent from its Jan. 26 closing high. But that just puts it back to its lowest level in two months.
As the chart shows, the S&P 500 has had far worse beginnings to a trading year. Even the shoe-shiners have been saying for months that the stock market needed a breather. The recent drop may turn out to be no more than the pause that refreshes.
It's the Economy, Stupid
The U.S. equity market has reached new highs in large part because corporate profits have been rising, as my Gadfly colleague Stephen Gandel argued on Monday. The economic outlook remains benign.
Traders have scaled back expectations for the Federal Reserve raising rates again at its March 21 meeting. They now put the likelihood at 77 percent, down from a near certainty at 99 percent at the end of last month.
But with its official interest rate at 1.5 percent, the Fed can afford to pause on its normalization path if falling stocks threaten to derail the economic recovery. And having tightened five times since the end of 2015, the central bank even has room to loosen policy if it sees a need. Departing Chair Janet Yellen's gift to her successor Jerome Powell may well be the elbow room to reduce borrowing costs.
To contact the editor responsible for this story:
Edward Evans at eevans3@bloomberg.net
Before it's here, it's on the Bloomberg Terminal.
LEARN MORE