Steady On
Lululemon Needs a New Leader, Not a Course Correction
The athletic-apparel giant is better off without Potdevin, but doesn't need a dramatic strategy shift.
By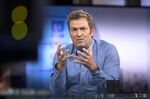 LULULEMON ATHLETICA INC
+1.03
At Closing, February 23th
Laurent Potdevin has been guiding Lululemon Athletica Inc. through a turnaround. Now the athletic-apparel giant will have to figure out how to keep the momentum going without him.
Lululemon announced Monday that Potdevin has resigned as CEO. In a press release about his departure, the company said Potdevin failed to meet the company's standards of conduct. It has not detailed exactly what behavior lead to the separation.
But Lululemon's board shouldn't lose any sleep over Potdevin's exit, because it almost certainly leaves the company better off.
Even without knowing exactly what Potdevin did, it is essentially never a bad idea to get rid of a leader who has acted inappropriately.
Corporate culture is a powerful determinant of any company's success. It shapes obvious things such as team communication or talent acquisition and retention. But it is also the grease that makes the wheels of innovation and productivity spin.
That's why it is important that everyone in a company is held to the same code of responsibility. The board was right not to treat Potdevin as though he were above those rules or obligations.
And let's not ­forget the consequences Lululemon could have faced with consumers had it allowed such behavior to get a pass and it eventually came to light.
Lululemon knows as well as any retailer how much power its leaders have to shape shoppers' perception of the brand. Remember back in 2013, when founder and then-chairman Chip Wilson made a cringe-inducing remark about how "some women's bodies actually do not work" for their pants?
That was a mere gaffe, and it dogged the brand's reputation for years. Imagine what something worse -- an unaddressed pattern of misconduct, for example -- could do to repel shoppers. 
It's true that Potdevin has helped Lululemon avoid the malaise that has engulfed much of the athletic-apparel sector.
But let's be honest: He's not irreplaceable. The company's recent success doesn't rest solely on his shoulders. He has hired smart people to enhance its supply chain and added skilled merchants who have ensured its clothes are more on-trend.
Potdevin built a strong team, and it will do a fine job of steering the company for the short term. The plan is for three senior executives -- Celeste Burgoyne, Stuart Haselden and Sun Choe -- to take on additional responsibilities during a CEO search. They will report to Lululemon's executive chairman Glenn Murphy, a retailing veteran who is a former CEO of Gap Inc.
Still, Lululemon should not dawdle in finding Potdevin's successor.
I have some ideas for what kind of résumé they should seek: For one, markets outside North America will be an increasingly important growth avenue for the chain, so the board would do well to identify someone with international experience. And with about 19 percent of Lululemon's sales coming from e-commerce last year, the chain could also benefit from a leader with digital chops. 
But perhaps most important of all, it should seek someone who is humble enough to understand the company doesn't really need some dramatic strategy shift -- it just needs a new steward to execute a pretty solid plan.
To contact the editor responsible for this story:
Mark Gongloff at mgongloff1@bloomberg.net
Before it's here, it's on the Bloomberg Terminal.
LEARN MORE