Bargain Hunting
Wells Fargo's Sell-Off Looks Overblown
The bank's shares are approaching bargain territory now.
By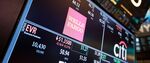 Sure, the Federal Reserve's unexpected sanctions on Wells Fargo & Co. will hurt. But after the initial reaction, investors may want to think twice before they flee.
On Monday, the bank's shares tumbled more than 8 percent in intraday trading, their biggest single-day decline since October 2011. The reaction, which shaved some $25 billion from the company's market value, is more than four times the expected extent if you take CEO Tim Sloan at his word. Sloan said late Friday that the regulator's actions to curb its asset growth will stunt the bank's 2018 profits by a maximum of $400 million, or less than 2 percent of its projected total. So what gives?
As I've written, his prediction may wind up being too conservative if clients take their business elsewhere, and Monday's stock reaction certainly reflects Wells Fargo shareholders' growing doubt in his credibility. But if Sloan's estimates bear out and the lender can withstand the growth limits, the sell-off has turned the bank's shares into something of a bargain.
Consider this: At its latest price, the San Francisco-based lender trades at 12.3 times consensus forecasts for its 2018 earnings per share, or a 1.6 multiple of its book value. Although longtime laggards Bank of America Corp. and Citigroup Inc. still trail Wells Fargo on a price-to-book value basis, their price-to-earnings multiples at 12.7 and 12.1 respectively are jarring when you consider that their key profitability measures are inferior. (Any improvements driven by cap-free growth or business stolen from Wells Fargo are most likely negligible.) Credit Suisse analysts, even after factoring in the effect of the fresh regulatory constraints, expect Wells Fargo to deliver 2018 return on equity of 12.5 percent and return on assets of 1.2 percent, both within management's targeted ranges of 11 percent to 14 percent and 1.1 percent to 1.4 percent, respectively. Check out the below table for how Wells Fargo lines up against its chief rivals:
Separately, any fears that Wells Fargo's ability to return capital to shareholders will be curbed in coming years appear unfounded. Remember, despite the sales practices scandal, it passed the 2017 stress tests, and the bank has plenty of excess capital:
To be sure, it's understandable that some investors may no longer want to be associated with Wells Fargo in light of its abusive sales practices and tarnished reputation. But either the stock rally experienced by rivals Bank of America and Citigroup  has gone too far, or Wells Fargo's battering is beyond what it deserves.
To contact the editor responsible for this story:
Daniel Niemi at dniemi1@bloomberg.net
Before it's here, it's on the Bloomberg Terminal.
LEARN MORE