CEO Succession
Tesco's Chas & Dave Show
With Charles Wilson's appointment as U.K. head, greener pastures beckon for CEO Dave Lewis.
By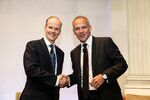 TESCO PLC
+1.50
At Closing, June 18th
It was starting to look mighty crowded at the top of Tesco Plc.
Its near 4 billion pound ($5.7 billion) takeover of wholesaler Booker Plc, due to complete in a month, was on track to land it with a top team comprised of three current or former FTSE 100 or 250 chief executive officers.
Now Matt Davies, Tesco U.K. CEO, is to step down. Although highly regarded, both at Halfords Plc and before that Pets at Home Group Plc, as well as popular internally, it always looked like he didn't quite fit at Tesco. Rumors of his departure have been circulating almost since he arrived three years ago.
His replacement will be Charles Wilson, chief executive of Booker. It's a good move to give him that senior role. But as Gadfly has argued, the merger always looked like a succession plan. If Wilson delivers -- and, given his track record, it would be foolish to bet against him -- that is likely to come to fruition.
It's a big job. Far more extensive than only a role overseeing the integration of Booker. That position would have presupposed that Wilson would step down once the job is done. Now, he is firmly entrenched. With Tesco having offloaded international assets, such as its Korean business, the U.K. accounts for even more of its sales and profits.
A favorite with investors, Wilson's job will be to put Tesco's U.K. business back on track. Although it recovered strongly last year, it seemed to run out of steam in the crucial Christmas and new year trading period. 
Dave Lewis, Tesco group CEO, has set out an ambitious plan to lift Tesco's operating margin from 2.7 percent in the first half of its financial year to between 3.5 percent and 4 percent at the end of the 2020 financial year.
Wilson is now largely responsible for delivering that margin target. He is also likely to wring more synergies from the Booker merger than the underwhelming 200 million pounds that has been outlined. And all this will come against the backdrop of preparing Tesco to compete with the likes of Amazon.com Inc. and JD.com Inc., which he sees as the long-term competition.
But with Booker key to the fortunes of Tesco U.K., Lewis will now have to let him get on with the job, not always easy for a group CEO. 
There is also much riding on making a success of the U.K. business for Wilson. He's had a supporting role before -- to Stuart Rose at Marks & Spencer Group Plc -- but it's hard to see him playing second fiddle to Lewis for long.
As Gadfly has argued, there could be a neat solution of smoothing out the potential for any tensions at the top: a move by Lewis to succeed Paul Polman as CEO of Unilever NV, where he spent his career before Tesco. If Wilson does a good job, Lewis will also be able to take some credit, having overseen the merger and his appointment. He could feasibly argue that his turnaround of Tesco is complete, and hand the reins to Wilson for the next phase of development.
There are a few things that could derail this plan. Lewis may not want to go to Unilever, or the board there may not want him. 
If that's the case, then the top of Tesco could start to look crowded once more.
To contact the editor responsible for this story:
Jennifer Ryan at jryan13@bloomberg.net
Before it's here, it's on the Bloomberg Terminal.
LEARN MORE