Health fad
SoftBank Develops Ping An Fever
There are tempting targets beyond the Chinese insurer's Good Doctor.
By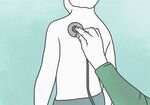 PING AN INSURANCE GROUP CO-H
+0.60
At Closing, February 23rd
TENCENT HOLDINGS LTD
+7.00
At Closing, February 23rd
At this rate, SoftBank Group Corp.'s $100 billion Vision Fund may as well just buy China's second-largest insurer.
Ping An Insurance (Group) Co., valued at $214 billion, wants to be the nation's tech giant of insurance, and it looks like Masayoshi Son is happy to back those dreams. Indeed, his Vision Fund could do a lot worse than acquire the state-linked insurer that's beating China's tech giants in disrupting everything from one-click insurance cover to selling cars. 
This weekend, Ping An, whose value doubled in the past year, announced three fundraisings. The Japanese investor piled into two of them. The insurer has been so popular with overseas buyers that unusually for a Chinese stock, its Hong Kong H-shares have been trading since last June at a premium to the Shanghai-listed stock.
The Vision Fund was among investors in the $400 million pre-IPO round for Ping An Healthcare & Technology Co. Japanese financial-services group SBI Holdings Inc., venture capital firm IDG Capital and others identified by Ping An only as "etc." also took part in the three fundraisings. 
Ping An Healthcare, centered on the Good Doctor app, which connects patients with doctors for diagnosis, is preparing a Hong Kong listing soon to raise as much as $1 billion. The app is China's largest healthcare platform, with 192.8 million monthly active users, ahead of Tencent's WeDoctor with 150 million, 1  according to Bernstein Research. But it remains unprofitable.
The SoftBank fund also was an investor in (the confusingly similarly named) Ping An Healthcare Technology. That unit, which raised an unusually large $1.15 billion in its first round of fundraising, is better known as Health Connect and helps hospitals access patients' medical records.
Ping An's OneConnect, which offers AI-powered services like risk management to banks, also raised external funds for the first time. While SoftBank didn't participate in the $650 million exercise, this business too could prove an attractive proposition. Last year, for example, the Tokyo-based fund bought into the IPO of ZhongAn Online P&C Insurance Co., the first major fintech listing in Hong Kong. China's biggest internet insurer was backed by Tencent Holdings Ltd., Alibaba Group Holding Ltd. and... Ping An.
There are two things to conclude from all this. First, prepare for a wave of public listings by Ping An companies. After Good Doctor comes to market, Health Connect, OneConnect, and Lufax, an online wealth-management platform, will all be tapping Hong Kong investors. While Ping An is a successful insurer and has plenty of funds, as an insurance company -- with a bank -- it's subject to capital requirements. It can't fulfill fintech dreams as easily as a regulation-lite tech firm, hence the spinoffs. If the Good Doctor IPO goes well, others will follow.
Second, Ping An will keep tapping investors for pre-IPO cash. Beyond healthcare and fintech, its four "major ecosystems" include autos and real estate. The Vision Fund, whose latest investment is a dog-walking startup in the U.S., may find some appealing business models closer to home.
To contact the editor responsible for this story:
Paul Sillitoe at psillitoe@bloomberg.net
Before it's here, it's on the Bloomberg Terminal.
LEARN MORE