Pulling the Cable
If Billionaire Malone Is Selling, You Need to Ask Why?
Vodafone looks to be in a good position, but it all comes down to price.
By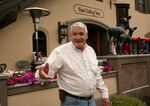 VODAFONE GROUP PLC
-1.65
As of 5:47 AM EST
LIBERTY GLOBAL PLC-A
-0.51
At Closing, February 21nd
Vodafone Group Plc and John Malone's Liberty Global Plc may have found a way to get most of the benefits of a megadeal without the usual snags of M&A. The burden will be on Vodafone to show it's on the better side of a plan to buy individual assets from the cable billionaire instead of doing a merger.
The idea of a tie-up between the U.K.-based mobile operator and the U.S.-listed cable group has been doing the rounds for ages. So have the obstacles: The lack of overlap in some markets, the groups' differing appetite for debt, and contrasting views on value.
It's no surprise then that the pair is talking instead about piecemeal deals in countries where they both do business.
At first glance, Vodafone seems to have moved itself into an advantageous position as the putative buyer of Liberty's German cable-TV operation, plus some of its other continental European assets. For both sides, this is cleaner than a full-blown corporate combination. It's also less fiddly than swapping assets.
Vodafone would get its hands on the operations it covets while keeping its European empire together -- though that doesn't by itself justify a deal. Analysts had wondered whether Vodafone might surrender its share of a joint venture in the Netherlands to Liberty as part payment.
It's not clear what has turned Malone into a potential seller. The strategic logic of combining mobile and cable assets is widely accepted, and Liberty can of course only share in the potential value creation by doing some kind of deal. Its willingness to entertain selling suggests it's happier than Vodafone to treat its portfolio as tradeable at the right price.
Vodafone needs to be wary. Its shares have fallen 10 percent this year, performing worse than the wider market, partly on the back of disappointing third-quarter numbers. 
Raymond James analysts reckon the savings from crunching together the German businesses would be worth 4.5 billion billion pounds ($6.3 billion), or 16 pence per Vodafone share. The mobile giant was trading at about 212 pence at noon on Monday, a 3.5 percent fall on the day, wiping out Friday's late gains on the Liberty news. 
Liberty's German unit is worth 12 billion pounds, Raymond James estimates. Vodafone's net debt was 2.1 times Ebitda at the last count and a deal would push that above its 2.5 times ceiling -- at least temporarily. Maybe the British company thinks higher leverage could be supported by more reliable earnings after a deal.
Vodafone stock ought to have done better given the sizeable cost-cutting and cross-selling opportunities here. CEO Vittorio Colao is lucky that Malone's a willing seller. But he'll need to show he's keeping a fair share of the spoils and not paying them all away to someone famed for driving a hard bargain.
To contact the editor responsible for this story:
James Boxell at jboxell@bloomberg.net
Before it's here, it's on the Bloomberg Terminal.
LEARN MORE