Phantom Menace
The Ghosts in Hess's Machine
The cash-strapped oil producer is vulnerable to outside forces.
By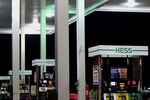 There were a few ghosts haunting Hess Corp.'s earnings call on Monday.
The obvious one is Elliott Management Corp., the activist fund that's been prodding Hess for five years and recently made its displeasure known (again). Like Voldemort, Elliott wasn't named on Monday morning's call. Surprisingly, it only showed up obliquely toward the end, with a carefully worded question about a "well-known" shareholder's call for Hess to favor buybacks over its dividend. CEO John Hess dismissed this, citing support from other investors over the view of "that one shareholder."
There were two other specters, one bad and one good. The first was Royal Dutch Shell PLC, which suffered a fire on a drilling platform in the Gulf of Mexico in November that forced several other companies, including Hess, to curtail production at their own fields. The disruption seems likely to last for much of 2018; it helped push Hess's fourth-quarter output -- ex-Libya -- down by almost 6 percent versus the prior quarter and, the company says, cost it about $55 million in lost operating cash flow.
Hess can ill afford such mishaps, even through no fault of its own. That $55 million would have boosted cash flow by 16 percent, alleviating some of the company's persistent outflow:
This is the heart of the matter for Hess. Like other exploration and production firms, Hess is courting investors with promises of discipline. However, it is committed to a big investment program that will likely keep free cash flow negative for a couple more years at least.
This speaks to the other figure haunting the call, Exxon Mobil Corp. Exxon's presence is a benign one, in the sense that it is operating the one prospect that injects some unambiguous excitement into Hess's stock; namely, some world-class reserves discovered offshore Guyana.
These prospects are estimated to hold recoverable reserves of more than 3.2 billion barrels of oil equivalent, and Hess's 30 percent stake in them underpins a significant chunk of its valuation. But with production not scheduled to begin until 2020, that 30 percent stake means Hess must fund that share of the development costs in the meantime. When asked on Monday if progress on defining the Guyana prospect meant Hess could perhaps raise its share buyback program, the company said it needed more clarity on costs and oil prices before considering that.
Hess continues to make progress in its Bakken tight-oil operations; and its Stampede project in the Gulf of Mexico, which began production last month, will generate some welcome cash flow from here on.
The difficulty is that Hess, despite its stock having dropped by 17 percent over the past three weeks or so, still looks relatively expensive on near-term multiples:
Hess offers a long-term promise in Guyana, but in a sector where, after several punishing years and a decade of declining returns, investor horizons have shortened drastically. That leaves Hess vulnerable for now to the outside forces of activists, acts of God like Shell's fire and, of course, an oil market that appears to be feeling nervous after an extended, and speculative, rally.
To contact the editor responsible for this story:
Mark Gongloff at mgongloff1@bloomberg.net
Before it's here, it's on the Bloomberg Terminal.
LEARN MORE