What Inflation?
European Bonds Aren't Scared, They Have Mario Draghi
U.S. Treasuries may be packing it in, but across the pond the ECB has the market's back.
By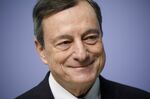 Risk off, volatility up -- last week's U.S. bond selloff caused tremors in Europe. But it should only be a temporary shock -- the inflation monster is not knocking at Europe's door.
The separate stance of the two central banks say it all. The European Central Bank is still adding stimulus whereas the Federal Reserve is starting to take it away. On top of that, the persistent weakness of the dollar versus the euro and yen is suppressing inflation pressure in Europe and Japan, and this should also keep a lid on yields.

Europe is in a much earlier stage of recovery from a more-extended crisis. Inflation really isn't in evidence, with the core measure barely at one percent. The stronger currency has left the ECB determined to hang onto forward guidance for ultra-low rates until well after Quantitative Easing ends -- and all recent signals are that bond buying could get extended to the very end of this year.
Peripheral yields are a key part of the story here. Italy has a general election in less than a month's time, but its bond market is confident that whatever the result, the central bank has its back. Spain, Portugal, Italy and Greece are all at or near to the tightest versus Germany over the last year.
This shows investors believe that the ECB will keep delivering support. So while core European bond markets found it hard to resist initially the drag higher in U.S. yields but that is waning already as yields are retracing lower as well.
A sharp risk-off steepening of the curve in U.S. Treasuries reflects an inflation scare that could only have come from a resurgent economy fueled by a weak dollar and tax cuts. The strength in the wages component of Friday's U.S. non-farm payroll is a warning sign that Jerome Powell's Fed will raise rates at least as much as a Janet Yellen Fed would.
But those (happy) problems are over on the other side of the pond. The rest of the world is not in lockstep with the eight-year long booming U.S. economy.
The Bank of Japan successfully defended the 10 basis point level on 10-year government bonds again last week. And yields have stayed low this week.
To be sure, the great times in European fixed income won't last forever. Economies are, finally, recovering. But as Gadfly has been arguing, it's all a matter of timing. 
The ECB is at pains to emphasize it will sustain its stimulus not just in bond buying but in maintaining negative deposit rates literally for years to come. European bond yields ought to reflect that.
--Gadfly's Elaine He contributed charts
To contact the editor responsible for this story:
Jennifer Ryan at jryan13@bloomberg.net
Before it's here, it's on the Bloomberg Terminal.
LEARN MORE