BOTCHED JOB
The DIY Project That Cost $791 Million
Homebase was a disaster foretold for Australia's Wesfarmers.
By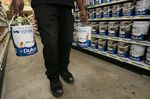 WESFARMERS LTD
-0.16
As of 9:49 PM EDT
You could have predicted two years ago, when Wesfarmers Ltd. announced a 340 billion pound ($480 million) bid for the U.K.'s Homebase home-improvement chain, that the deal would turn into a disaster. Indeed, Gadfly did just that.
So how did the Australian conglomerate's managers -- who pride themselves on their hard-headed focus on return on capital and ability to turn around flagging retail businesses -- get it so wrong?
The answer comes back to a failure to look honestly in the mirror. At the time Wesfarmers announced the acquisition, its Bunnings hardware chain was in its pomp. Masters, a would-be Bunnings-slayer established by arch-rival Woolworths Ltd., was in a state of collapse and just months away from having its last rites read.
Far from struggling with the competitive pressure, sales from Bunnings stores open at least 12 months -- a measure typically considered to be doing well if it grows much faster than inflation -- had expanded at an average 8.9 percent pace over the previous eight quarters.
The lesson Wesfarmers appears to have drawn is that it could repeat the trick with Homebase. Nine years earlier it had bought ailing retailer Coles Group Ltd. and performed a textbook turnaround. The company's namesake Coles supermarkets and its accompanying Kmart discount department stores comprised Wesfarmers' best-performing units alongside Bunnings at the time of the Homebase takeover.
The better lesson would have been that its success was the result not of management genius, but of luck and the advantages of incumbency. Kingfisher Plc-owned B&Q already played the dominant role in the U.K. that Bunnings plays in Australia. Under Wesfarmers' management, Homebase has echoed the performance not of the Australian company's leading chains, but of the hapless Masters.
There's been no sign of Kingfisher relinquishing its position. Despite Homebase closing just one in 20 of its stores compared with a 10 percent decline at B&Q, sales at the two chains have fallen by similar amounts. While B&Q's same-store sales dropped 1.9 percent in the most recent quarter, at the Wesfarmers chain they slumped a brutal 11.9 percent.
Stunning successes have always begotten costly hubris in business. The A$1 billion ($791 million) charge Wesfarmers is taking on Homebase shows it's no exception to that rule.
To contact the editor responsible for this story:
Matthew Brooker at mbrooker1@bloomberg.net
Before it's here, it's on the Bloomberg Terminal.
LEARN MORE