Kickoff
A Super Bowl Holiday Would Truly Make America Great
At a time when companies are all about symbolic giveaways, how about a paid day off after the big game?
By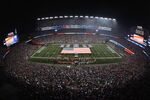 KRAFT HEINZ CO/THE
-0.74
At Closing, June 18th
It's that time of year again.
The New England Patriots have assumed their traditional role of playing some other team (insert name here) in the Super Bowl. Parties are being planned, chips and dips are being prepared, and, if you are really ambitious and live in New York, 100-proof alcohol-infused nachos are being ordered. But while that nacho dish may help you forget for a while, a nightmare even worse than Roger Goodell is looming: Monday.
Kraft Heinz Co. last year decided to forego a pricey Super Bowl advertisement and instead tried a new publicity stunt: it gave all of its salaried U.S. employees the day off after Super Bowl Sunday, and promoted a petition to have Congress declare that Monday a national holiday.
The petition failed to garner enough signatures to get in front of Congress -- seriously, way to fall down on the job, America. As for Kraft Heinz, despite saying last year that it "believes in never settling" and "we'll keep pushing to reach our goal," the company this year says it isn't planning on repeating the strategy. Sorry, Kraft Heinz employees.
We at Gadfly, however, are not abandoning the mission. And Mucinex, the cough and cold medicine owned by Reckitt Benckiser Group Plc, is doing its part as well. A recent survey commissioned by Mucinex and the Workforce Institute at Kronos Inc. estimates nearly 14 million employed Americans who plan to watch the game intend to call in sick on Monday. A quarter of Americans agree that the day after the Super Bowl should be a holiday, per the survey. That should be enough for a petition, I would think.
Even if every U.S. worker who watches the Super Bowl does eventually show up, Challenger, Gray & Christmas Inc. estimates employers will absorb a $1.78 billion productivity hit for every hour they're late or spend talking about the big game.
Last year, we suggested making Super Bowl Monday the new Black Friday, a day many employers already recognize as a holiday of sorts. As my colleague Sarah Halzack has noted, Black Friday is still critically important for retailers, drawing tens of millions of customers and year-over-year sales growth. Adding another made-up commercial holiday could give retailers one more opportunity to capitalize on shoppers' willingness to spend.
But apart from the potential boon to the economy, granting a post-Super Bowl holiday is just a smart act of good will toward employees. Honestly, I'm surprised no one has thought of mimicking Kraft Heinz's strategy at a time when companies are all about symbolic giveaways to celebrate the recently passed tax cut. (Hostess Twinkies, score!)  
If Corporate America is opening up its wallet, we might as well get something worthwhile and lasting out of it, like a day off after the Super Bowl. Unless, of course, you were a recent contestant on Jeopardy, in which case you probably have no idea what I'm talking about.   
To contact the editor responsible for this story:
Beth Williams at bewilliams@bloomberg.net
Before it's here, it's on the Bloomberg Terminal.
LEARN MORE