Strength in Numbers
So Long Kaz, and Thanks for All the Cash
The outgoing CEO leaves behind a stronger balance sheet.
By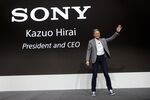 SONY CORP
-29.00
At Closing, February 22nd
Kazuo Hirai took the helm of Sony Corp. at an interesting time. After seven years under Howard Stringer, the Japanese electronics company was on the cusp of an identity crisis in its consumer-devices division.
In Kaz's six years as CEO, Sony dumped its Vaio PC unit, trimmed its smartphone business and reshaped the TV brand that was at its core. The overhaul helped the company raise its annual profit forecast to a record Friday.
Yet it's the balance sheet he's leaving behind that should be cherished most by investors. It's no accident that the man picked to take over is the outgoing CEO's financial lieutenant, Kenichiro Yoshida.
Kaz, who will become chairman, boosted cash, equivalents and marketable securities by an average 8.4 percent annually, compared with a 6.9 percent pace during the Stringer years. 1  Current assets jumped 13.7 percent a year (against 2.3 percent), while long-term debt fell after having edged up under his British predecessor.
Whatever challenges come, and whichever strategies he picks, Yoshida will be operating from a stronger base. 
To contact the editor responsible for this story:
Paul Sillitoe at psillitoe@bloomberg.net
Before it's here, it's on the Bloomberg Terminal.
LEARN MORE