Roll Out the Barrel
Shell Confronts the Murky Future for Oil
Van Beurden has kept investors sweet, now he needs to pump up returns.
By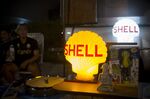 ROYAL DUTCH SHELL PLC-A SHS
+37.50
At Closing, June 18th
Ben van Beurden must feel he's come to the end of a painful journey. Royal Dutch Shell Plc's CEO has cut the oil major's debt and secured its dividend. But if that has appeased income investors, he must now turn Shell into a business that actually adds value.
The company has certainly capitalized on the oil crisis. The $64 billion acquisition of BG in 2016 saddled it with massive debts just as the price of crude hit rock bottom, weakening cash flow and putting the dividend at risk. But the deal also offered the chance to rip out costs and cherry pick the best assets in the combined portfolio.
The benefits are now clear. Shell makes as much money with the oil price at $60 a barrel as when it was $100, as my Bloomberg News colleague Javier Blas points out. Last year, it generated $36 billion of operating cash flow, up 73 percent. That broadly covered the bill for capex, interest and cash dividends.
Meanwhile, it was able to pay off $12 billion of its debt almost entirely with cash proceeds from divestments. Net debt is $65 billion. Gearing is at 25 percent, still a way off the 20 percent target.
True, the fourth quarter included some unanticipated tax payments, meaning cash flow was less good than hoped. But these are one-offs. The trajectory looks positive unless the oil price suffers another hit.
New projects and more cost cuts will boost operating cash flow. That will fund the paying of dividends wholly in cash instead of partly in shares. While the BG-driven asset sales are ending, a company of Shell's size should be able to find other disposals each year to speed up debt reduction.
Income investors will be jubilant. Any dip in the oil price would probably threaten further debt pay-downs and capex more than their payouts. Shell wants to keep this constituency sweet.
For everyone else, there are two big questions. Strategically, Shell is still a big oil and gas company with minimal exposure to renewables. Its portfolio may be a cash machine for dividends, but Shell needs to reposition itself for the massive transition underway in energy. That will need investment.
Financially, returns are still inadequate at 5.8 percent on Shell's $282 billion of average capital employed last year. That masks huge variations within the portfolio. But reaching Shell's targeted 10 percent will need another big step up in net profit, as it diverts any surplus cash to cutting debt and share buybacks to shrink the capital base.
It's good news that Shell's free cash flow is recovering. But the full transformation of Shell is a work half done.
(
A previous version of this story was amended to correct Shell's gearing target from 25 percent to 20 percent.
)
To contact the editor responsible for this story:
James Boxell at jboxell@bloomberg.net
Before it's here, it's on the Bloomberg Terminal.
LEARN MORE