Travel Light
Nomura's Tricky Translation
Japan's largest investment bank should take it easy overseas.
By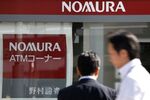 NOMURA HOLDINGS INC
-10.00
As of 12:55 AM EDT
MIZUHO FINANCIAL GROUP INC
-0.90
As of 12:55 AM EDT
Can a bank that's a giant at home flourish as a mid-tier lender overseas?
That's the question Nomura Holdings Inc. needs to ask itself as a booming Japanese equity market offsets a weaker performance from its more internationally focused fixed-income-trading business. The answer is probably yes, but only so long as Nomura can get its domestic clients to stick around.
On Thursday, Japan's largest investment bank said third-quarter net income rose 25 percent to 88 billion yen ($805 million) for the period ended Dec. 31 as gains in local brokerage operations, the global equities rally, and asset management offset the bane of Wall Street: low fixed-income trading volumes.
Nomura's results follow buoyant earnings from rival Daiwa Securities Group Inc., which Tuesday reported a 21 percent increase in third-quarter profit as higher brokerage commissions made up for a drop in trading income. Megabanks Sumitomo Mitsui Financial Group Inc. and Mizuho Financial Group Inc. both posted earnings gains this week that also reflected the benefits from Japan's stock-market rally.
The government's push to get Japanese retail investors to trade shares rather than piling cash into bank accounts has been so successful the Topix is near the highest in 27 years. Nomura has been helping regional lenders to bulk up their brokerage operations, with one eye on the possibility of selling products through them down the track.
And when it comes to the Japanese market, Nomura is a clear leader. It's got a mid-20-percent share of domestic mutual funds and slice of about 45 percent of local exchange-traded funds, according to Morningstar Research. Market factors combined with inflows into exchange-traded funds and other portfolios helped lift assets under management to a record high for fifth straight quarter, Nomura said Thursday.
Nomura's overseas adventures have been less successful. Having learned from its failure to make a go of buying Lehman Brothers Holdings Inc.'s Asia and European business during the financial crisis, Nomura is in expansion mode again, albeit selectively.
After losing a lot of deal advisory to Mizuho, which advised SoftBank Group Corp. on its $40 billion acquisition of Sprint Corp. in 2012 and the purchase of ARM Holdings Plc in 2016, Nomura is making a comeback.
Along with Goldman Sachs Group Inc., it's advising Toshiba Corp. on the $18 billion sale of its memory-chip business to a consortium led by Bain Capital LP. A successful close would provide a much-needed turning point for the Japanese bank, although the acquisition is still awaiting Chinese government approval, among other things.
While it's early days, it looks like that push is working. M&A and advisory fees in the three months through Dec. 31 climbed almost 70 percent to 13.7 billion yen. 1
The Toshiba transaction is an example of the sorts of deals Nomura should pursue. It will never be able to compete with the sophistication of Goldman Sachs, Morgan Stanley or JPMorgan Chase & Co., and it lacks the access to global institutional investors of other Wall Street rivals.
What Nomura does have is excellent relationships with some of Japan's biggest companies, most of which are cash rich and desperate for growth. It could also provide a valuable service advising clients wanting to move offshore in niche sectors such as healthcare, where Japanese technology increasingly has an edge. The Tokyo-based group has already made a start, hiring 15 senior investment bankers in the U.S. to help connect the dots with Asian firms.
That's not to say Nomura should lessen its domestic focus. Rather, it should ensure any overseas expansion is steady, and considered. That's a proven way to win a race.
To contact the editor responsible for this story:
Katrina Nicholas at knicholas2@bloomberg.net
Before it's here, it's on the Bloomberg Terminal.
LEARN MORE