Virtual Reality
Line's Huge Disconnect
How do you sell add-on services when your user base is stagnant and disengaged?
By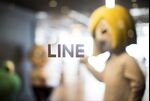 No wonder Line Corp. just posted a massive loss.
While it's the king of messaging in four countries -- Japan, Taiwan, Thailand and Indonesia -- it's essentially given up on any other markets. This is a mistake. A huge error that could eventually sink the company if its leaders don't get their act together.
I wrote about this a year ago. Today, that criticism is borne out in Line's financial results. The company reported a 4 billion yen ($37 million) net loss for the fourth quarter when analysts had been expecting a 2.34-billion-yen profit.
There are many factors to blame for Line's large rise in costs, but among them is a surge in marketing to promote the company's entry into smart speakers and to boost uptake of its new game titles. Line also faced writedowns from troubled investments including Snapchat-like app Snow and games studio 4:33 Creative Labs, along with a higher tax bill.
A fast-growing company like Tencent Holdings Ltd. could afford to brush off such challenges, and so could Line if it were to keep its top line moving forward at the pace of a nimble startup.
But Line's management has dropped the ball on revenue expansion because they got too comfortable in believing that zero growth in user numbers was somehow acceptable.
Communications are a global thing, and unlike news websites or restaurant-review apps, instant messaging necessarily crosses borders. By not bothering to onboard users outside of its core markets, Line is sending a message to its existing user base that if you want to chat with your friend in Canada, download WhatsApp. And since users don't want to fiddle around with half a dozen chat apps, they tend to stick with those favored by the broadest array of friends.
While I much prefer Line, I find myself spending more time on WhatsApp and Telegram because that's what friends in Singapore, the U.S. and Australia use. This is an anecdote repeated throughout the Line universe. Some of my contacts have stopped using Line altogether.
Instead of customer expansion, Line is trying its hardest to extract more money from the loyal fanbase it currently has. There's weakness in that approach. Engagement is at the core of such a strategy, and the numbers don't look good.
Anyone who uses Line knows that its hallmark is a catalog of cute stickers -- emojis writ large -- with both free and paid offerings available. Barely a day goes by without friends swapping stickers to express their sentiment (my favorite: Sunglasses Baby). Sadly for Line, not only has monthly active user (MAU) growth dried up, but sticker usage has declined.
If fewer people are getting onto Line, and those who have it use it less, then it's only a matter of time before the newest plank of revenue, advertising, weakens. This has already happened, with impressions on Line's ad platform barely changed from the prior quarter. And how do you sell smart speakers or attract gamers when your user base is stagnant and disengaged!
Line wants to invest in artificial intelligence and fintech, including a cryptocurrency exchange. But an inability to manage the business it currently has will make it difficult for investors to believe these new forays are worth the bet.
To contact the editor responsible for this story:
Katrina Nicholas at knicholas2@bloomberg.net
Before it's here, it's on the Bloomberg Terminal.
LEARN MORE