Nintendo, That's Who
Look Who's Boring Now
Good dividends are no longer the preserve of dull utilities.
By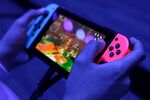 NINTENDO CO LTD
-140.00
As of 9:46 PM EDT
Nintendo Co. on Wednesday afternoon told investors what they already knew: Sales and net income for the year will come in much higher than the Japanese company had previously estimated.
That management left it to the last few months of the fiscal period to upgrade its guidance is no big scandal, it merely shows a general conservatism despite the massive success of Nintendo's Switch console.
What did surprise on the upside was the company's dividend announcement. Nintendo now expects a full-year payout of 500 yen ($4.60) per share, up from 360 yen, and a healthy notch higher than the 460 yen predicted by Bloomberg analytics. That makes it the highest shareholder giveaway since 2010.
Add to that the possibility of higher distributions from the likes of Taiwan Semiconductor Manufacturing Co. and Samsung Electronics Co. and you start to see an important trend.
Asia's tech companies were once seen as growth plays, providing returns to investors by proffering solid top- and bottom-line expansion that drove share prices ever higher. Now, with the prospect of actually handing more of those expanding liquid assets back to shareholders, they're starting to look more like boring utilities whose major lure is the guarantee of steady cash.
Right now, it appears these companies are offering both: growth and dividends. But if the global economy turns, or equity markets falter, fund managers will start being thankful for a better bunch of boring dividend plays from which to choose. Pity those firms that don't follow the trend.
To contact the editor responsible for this story:
Katrina Nicholas at knicholas2@bloomberg.net
Before it's here, it's on the Bloomberg Terminal.
LEARN MORE