Assembly Required
Blackstone Heralds an Era of Offbeat Megabuyouts
Deals like the one for Thomson Reuters's data unit require a bit of serendipity and investor support.
By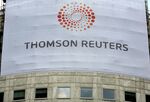 THOMSON REUTERS CORP
+0.25
At Closing, February 23rd
BLACKSTONE GROUP LP/THE
+0.24
At Closing, February 23th
It's official: The megabuyout drought is over. That doesn't mean these deals are coming back in force.
Late Tuesday, Blackstone Group LP announced its largest buyout since the financial crisis, and one of the largest such deals in more than a decade. The Steve Schwarzman-led firm is writing one of its biggest-ever private equity checks as part of a transaction that will give it a majority stake in Thomson Reuters Corp.'s financial and risk division, valuing that unit at some $20 billion. (Note: That business, which provides data and terminals to Wall Street and corporate clients, competes with Bloomberg LP, the parent of Bloomberg News). 
It will take some heavy lifting for Blackstone to make this deal a success, as my Gadfly colleague Chris Hughes has written. To ensure respectable returns, it'll need to increase the unit's earnings power, likely through substantial cost cuts. That itself may be a challenge, considering that Thomson Reuters has been trying to keep a lid on expenses through "simplification initiatives" including job cuts and reducing the number of subsidiaries in its legal structure. Plus, operating expenses may actually climb as the company is on the hook for minimum annual payments of $325 million for the next 30 years in exchange for Reuters news content. 1
Despite the $20 billion price tag, the deal seems like a bargain. It values the division at roughly 12.3 times its earnings before interest, taxes and amortization, a sizable discount to smaller rival FactSet Research Systems Inc., which trades at an Ebitda multiple of more than 17. 
Under any circumstances, a successful exit from a private equity investment is far from guaranteed. But as we learned during the crisis, leveraged buyouts can swiftly become a risky business when conditions take a turn for the worse. In a recession, stock market selloffs cause valuations to retreat and the cost of debt financing skyrockets, factors that may outweigh any improvement in the company's earnings. To illustrate the point, FactSet's EV/Ebitda multiple dipped below 10 in 2008, and although it's arguable that the next downturn may not be quite as extreme, it's indeed possible that Blackstone may have little choice but to sell the company at a lower multiple at some point in the future.
Importantly, the Thomson Reuters investment is coming from the firm's flagship $18 billion private equity fund, and its performance will have a relatively heavy weighting on the fund's success. Still, the firm is obviously confident enough in its ability to avoid an awkward, loss-making outcome, so it'll be interesting to keep an eye on how the company performs, assuming high-level specifics will be available when Thomson Reuters reports each quarter. It wouldn't be surprising to see the Blackstone fuel the company's growth by making add-on acquisitions. 
Stepping back slightly, market observers shouldn't brace for a flurry of such deals, even if debt markets appear wide open and the regulatory climate is relatively friendly. 
Those that do make it across the finish line will obviously require a high level of investor backing. This deal, for instance, involves co-investments from two of Blackstone's investors, Canada Pension Plan Investment Board and Singapore's GIC. A strategic angle may also help, as in the case of Apollo Global Management LLC's 2016 purchase of ADT Inc. for $12.3 billion. Other elements must also fall into place: Here, Thomson Reuters's willingness to retain a 45 percent stake in the unit essentially made the megadeal possible. 2   
If anything, investors should prepare to be surprised. Blackstone may have just kick-started an era of megabuyouts, but it will be of the occasional, offbeat variety. 
Peter Grauer, chairman of Bloomberg LP, the parent of Bloomberg News, is a non-executive director at Blackstone. 
Previously, this expense was absorbed by Thomson Reuters as a whole, which includes its professional division. That unit made $4.8 billion in 2016 and isn't part of the Blackstone deal.
To contact the editor responsible for this story:
Beth Williams at bewilliams@bloomberg.net
Before it's here, it's on the Bloomberg Terminal.
LEARN MORE