Court Countdown
Make No Mistake, AT&T Is in Limbo
Upbeat earnings this time around shouldn't distract from its need to get a deal with Time Warner done.
By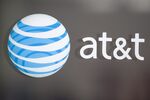 Going to court isn't fun. But for AT&T Inc., its day can't come soon enough. 
The company reported year-end results on Wednesday and, as promised, showed that it technically managed to add video-entertainment subscribers for the first time since before it bought DirecTV in 2015. Don't get too excited, though. 
The DirecTV satellite business -- for which AT&T paid $49 billion plus the assumption of debt -- is still bleeding customers. DirecTV Now, the cheaper over-the-top streaming service born out of that business, is what's offsetting the declines: The app had an impressive 1.2 million subscribers as of December. The key word there is cheaper. Or as Craig Moffett of MoffettNathanson put it in a recent note, there's "little economic offset from a growing OTT business." 
It highlights the problem for traditional pay-TV providers looking to smaller online offerings, such as DirecTV Now, as the future. The operating margin for AT&T's entertainment division, which houses all these TV services, is already contracting -- it was 8.4 percent in the fourth quarter, down from 10.3 percent a year earlier. 
AT&T heads to court in March to defend its $109 billion takeover of Time Warner Inc. The transaction looks smarter than the DirecTV deal, though we'll get a better idea about that when Time Warner reports its own fourth-quarter earnings on Thursday. The long, drawn-out approval process has created a welcome distraction from the challenges surrounding AT&T's pay-TV and wireless-services businesses. But now it needs to get the deal done.
Since the Time Warner offer was announced in October 2016, AT&T CEO Randall Stephenson and his team have been trying to sell investors on their new strategy around digital and mobile entertainment. That strategy depends on Time Warner. And as much as the company may attempt to downplay the significance of losing out on the business should the government successfully block the merger, that won't appease wary shareholders. It doesn't help that (slowly) rising interest rates are lessening demand for high-yielding stocks like AT&T's. 
Yes, AT&T gained in after-market trading as the company also revealed the cash windfall it expects from tax cuts and reported a surprise gain in wireless subscribers. But make no mistake: It's in limbo until this court case is settled. 
To contact the editor responsible for this story:
Beth Williams at bewilliams@bloomberg.net
Before it's here, it's on the Bloomberg Terminal.
LEARN MORE