Go Beijing
China's New National Team
There is some logic behind the nation's tech rivals teaming up.
By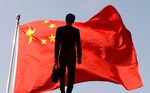 TENCENT HOLDINGS LTD
-9.20
As of 11:59 PM EDT
ALIBABA GROUP HOLDING-SP ADR
+0.57
At Closing, June 18th
Wang Jianlin is a lucky man. And he's got China's new national team to thank.
Facing intense government scrutiny, his debt-riddled Dalian Wanda Group Co. had one challenge looming over all the others: Get Wanda Commercial Properties Co., the developer that was delisted from the Hong Kong stock exchange in 2016 in a $4.4 billion privatization, relisted on the mainland by September. Failing to meet that deadline would have meant forking out guaranteed returns to investors who helped Wang buy out 14 percent of the company.
With the clock ticking, it seemed more asset sales were the only answer. Tapping the debt markets would have been a harder proposition.
Enter Tencent Holdings Ltd. According to a statement Monday, it's leading the acquisition of 14 percent of Wanda Commercial for 34 billion yuan ($5.4 billion). Online mall JD.com Inc., developer Sunac China Holdings Ltd. and Suning Commerce Group Co. -- a retailer backed by e-commerce giant Alibaba Group Holding Ltd. -- will also take part in the purchase of shares owned by private investors.
There's a retail argument to be made for this transaction. Wanda Commercial is China's largest owner and operator of shopping malls -- its plazas were visited by almost 3.2 billion people last year. Just as Amazon.com Inc. bought Whole Foods Market Inc., the nation's tech firms have been on a bricks-and-mortar spree.
Alibaba has an alliance with Sun Art Retail Group Ltd., and began the trend in 2015 with its investment in Suning. Tencent has a stake in Yonghui Superstores Co., while JD.com opened a chain of online-to-offline supermarkets in Beijing earlier this month. Crucially, such endeavors also give Alibaba affiliate Ant Financial and Tencent a chance to leverage their various payment apps.
In China, state-owned firms have on occasion been called upon to fulfill their national duty -- brokerages were corralled into propping up the stock market when it crashed in 2015, for example. Private companies haven't been immune either -- think the "reform" last August of China United Network Communications Ltd., which got billions of dollars in funding from Tencent, Alibaba, JD.com and Baidu Inc.
But why should such fierce tech rivals band together on behalf of a private company like this now? They're also coming in at a large premium to the original investors.
There is some upside. The stake purchase will contribute to Tencent et al being perceived as acting on behalf of the state, which should help lower their cost of capital. What's more, once a leaner Wanda Commercial is relisted, it may provide a lucrative exit plan. Wanda Commercial has pledged to get out of developing real estate in the next couple of years to focus on property management, and such firms tend to trade at higher price-to-earnings multiples.
Sometimes, being a good corporate citizen in China can pay dividends.
To contact the editor responsible for this story:
Katrina Nicholas at knicholas2@bloomberg.net
Before it's here, it's on the Bloomberg Terminal.
LEARN MORE