Killjoy
The Pentair Pouting Is Excessive
You could quibble with some of the specifics on its earnings, but it's a surprise winner on taxes.
By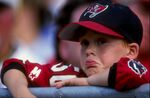 PENTAIR PLC
+0.18
At Closing, February 16th
Investors shouldn't be so hard on Pentair Plc.
The company had been pegged by analysts as one of the likely losers from the recently passed U.S. tax law. Its tax bill was already fairly low, thanks to the foreign domicile it obtained via a 2012 merger with Tyco International's flow control business. Eaton Corp., which also moved abroad via a merger, had said its tax rate would climb by about 3 percentage points. Judging by the plunge in Pentair shares on Tuesday, you'd think it had given similarly bad news as it revealed its 2018 outlook. But Pentair actually had a pleasant surprise to deliver: Its tax rate is actually set to get even lower.
The maker of protective enclosures for electrical equipment and water-filtration technologies expects its effective rate to be about 18 percent going forward, down from 20 percent currently. Pentair's CFO John Stauch admitted the company had also initially expected the tax bill to have a negative impact, but a lower border-adjustment tax impact than anticipated and the ability to carry forward deferred tax assets related to debt swung the effect to the positive. 
Pentair also recorded a provisional tax benefit of $85 million in the fourth quarter. Most of its U.S. industrial peers have been reporting charges because of repatriation bills, something that's less of an issue for Pentair as a foreign domiciled company. So why then were the shares dropping? 
The company's 2018 outlook looks strong at first blush, but once you back out the benefits from the lower tax rate, it's actually a disappointment as far as the company's core operations are concerned. Some of the weakness comes from underwhelming margin improvement as Pentair recovers from delivery challenges in its electrical enclosure operations. 
But this kind of plunge over what ultimately amounts to niggles about generally fine numbers seems overdone, especially as Pentair's pre-earnings share price was already baking in expectations of bad news as far as the tax bill was concerned.
You could also point to Pentair's call for strong organic growth of 3 percent in the first quarter, but just 2 percent to 4 percent for the entire year. That's a bit puzzling as it implies a slowdown as the year progresses, as Cowen & Co. analyst Joseph Giordano notes, and it seems to be at odds with the trends in Pentair's businesses and the overall strength of the economy. However, CEO Randall Hogan said the outlook was "realistic, but there's more upside than downside." That's not terribly different from the sales pitch Honeywell International Inc. made about its own weaker-than-expected 2018 guidance, and no one seemed to care when it played things safe.
Pentair is currently valued at a modest premium relative to its historical forward earnings multiples, but it is also *supposed* to be moving in that direction as a result of its plan to break up its electrical and water businesses later this year. Water companies tend to command higher valuations, exhibit A being Evoqua Water Technologies Corp. The former water business of Siemens AG was purchased by private equity firm AEA Investors LP in 2014 and taken public last year. 
There is also a chance that Pentair opts to sell its electrical business rather than sticking with the current plan to spin it out by April, which could imply a higher valuation for that part of the company as well thanks to the takeover premium. The tax bill has lowered the rates on gains from asset sales, potentially making that route a more feasible option for some companies.  
Pentair's got a lot of moving parts right now, but investors shouldn't overlook the things working in its favor.
To contact the editor responsible for this story:
Beth Williams at bewilliams@bloomberg.net
Before it's here, it's on the Bloomberg Terminal.
LEARN MORE