Walk the Talk
No Renesas Chip Deal? Such a Pity
After years in the financial wilderness, the Japanese company is in a position to grow again.
By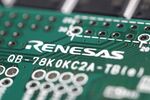 RENESAS ELECTRONICS CORP
+34.00
At Closing, February 21st
MAXIM INTEGRATED PRODUCTS
+0.86
At Closing, February 20st
Just hours after CNBC reported that Renesas Electronics Corp. is in talks to buy San Jose, California-based Maxim Integrated Products Inc., the Japanese chipmaker came out with a pretty solid denial.
That's a pity.
Renesas spent almost a decade in the financial wilderness posting loss after loss before a turnaround in 2015. Now the company -- which offers a broad suite of semiconductors used in cars, factories and smart homes -- is in the perfect position to start making acquisitions.
Automotive semiconductors make up half of Renesas's sales and it's the world No. 2 in that space behind Germany's Infineon Technologies AG. Importantly, as Bloomberg Intelligence's Anand Srinavasan points out, the auto-chip market is quite different to that for consumer devices.
That's because the array of semiconductors that go into a car is diverse, and the market is being driven more by higher chip content than by actual end-product demand. To stay ahead of the pack, Renesas (and its competitors) will need to keep expanding its catalog.

Renesas's track record in acquisitions is limited. With just $1 billion cash and $1.6 billion in long-term debt, a purchase of Maxim -- market cap $14 billion -- would have been a huge strain on its balance sheet. Instead, Renesas might want to consider picking off a division or two.
Maybe the denial Tuesday morning was against reports of an outright purchase. Or maybe there really is no plan to do any kind of deal. If that's the case, we can merely shake our heads and wonder at what could have been.
To contact the editor responsible for this story:
Katrina Nicholas at knicholas2@bloomberg.net
Before it's here, it's on the Bloomberg Terminal.
LEARN MORE