Asset right?
Britain's Bosses Have a Problem (And It's Not Brexit)
For shareholders, asset-light won't always be asset-right.
By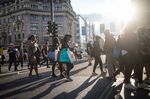 CARPETRIGHT PLC
+0.30
At Closing, June 15th
The U.K. economy isn't in recession. So why are some businesses having such a bad time?
The number of profit warnings by British firms is at the highest in two years, with retailers and outsourcing firms among the worst-hit, according to accounting firm EY. Carillion Plc imploded this month, while shares of Carpetright Plc and Dignity Plc have seen 50 percent falls in a day. The FTSE 250 index is down 1 percent so far this year, trailing its U.S. and European peers.
Pinning all this on Brexit would be a stretch. The full impact of the U.K.'s withdrawal from the European Union is unlikely to be felt for years and the economy is still expected to grow this year -- albeit at a slower pace of 1.4 percent. 
What's happening may have more to do with a lack of financial robustness in the face of a worsening business environment. Over the past five years, many U.K. firms have loaded up their balance sheets with more debt relative to both their earnings and assets. They have poured money into buybacks and dividends. They have sold property in exchange for long-term leases, eyeing more of an "asset-light" model. When times are good and debt is cheap, this can be an efficient way to maximize returns for shareholders; when business sours, it can amplify shocks.
Carillion, a construction and outsourcing firm, was an extreme example of this. During the past decade, the firm's debts more than quadrupled, and it paid out more in dividends than it actually generated in cash, according to a report by U.K. lawmakers. When projects started to go wrong, the company had too little cash available and too few assets left to avoid liquidation. 
Other recent profit warnings show how a more cautious consumer and a bad quarter's trading can ripple through a balance sheet. Indebted funeral provider Dignity's warning that prices had fallen by 25 percent in the face of tougher competition triggered a 50-percent drop in the share price, as analysts bet earnings would halve next year while net debt ticks up. Carpetright saw a similar decline in its stock after a 3.6 percent quarterly drop in sales at stores open for at least a year led it to slash its profit forecasts. The retailer's debt has doubled in the space of a year as it refurbishes stores.
The benefits of being an "asset-light" company in this environment are starting to look less obvious. Debenhams, which has gone through the private-equity mill and which sold stores in exchange for long-term rental leases, now looks hemmed in by multi-decade rental contracts that would be expensive to end.
It's not alone: In 2014 alone, U.K. corporate disposals of real estate totaled 5.7 billion euros, twice the level of 2008 and almost three times the amount raised in Germany, according to JLL, a real estate broker. The vogue for balance-sheet efficiency could leave firms with fewer assets that can be easily sold in a cash crunch, according to Chris White, a fund manager at Premier Asset Management.
None of this means that we should be calling for more corporate inefficiency, or empire-building projects that could risk destroying shareholder value. But investors would do well to question whether short-term decisions managers make in their name are the right ones for the long term. With interest rates set to rise and Brexit still around the corner, this may still be the calm before the storm.
To contact the editor responsible for this story:
Edward Evans at eevans3@bloomberg.net
Before it's here, it's on the Bloomberg Terminal.
LEARN MORE