Charted
One Company and Two Takeovers in Eight Days
Announcing two multi-billion dollar deals within days of each other is a rare feat.
By and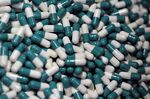 SANOFI
+0.16
At Closing, February 23rd
Sanofi Chief Executive Officer Olivier Brandicourt isn't hanging around. Just eight days after announcing the $11.6 billion takeover of U.S. hemophilia group Bioverativ Inc., he agreed to pay 3.9 billion euros ($4.8 billion) for Ablynx NV, a Belgian biotech that specializes in blood disorders.
It's rare for a company to announce two multi-billion dollar acquisitions within such a short period of time -- but not unheard of. This graphic shows deals announced by the same acquirer within 30 days of each other. The length of the line represents the time elapsed between the two deals. Sanofi stands out for the short period of time between the two deals -- and the size of both.

In Sanofi's case, a bid from Novo Nordisk A/S put the target in play, so the French drugmaker had to move fast. Thanks to his cash pile, Brandicourt can easily fund the deal. In most cases, funding and the management time required to integrate a target act as a natural brake on dealmaking.
To contact the editor responsible for this story:
Jennifer Ryan at jryan13@bloomberg.net
Before it's here, it's on the Bloomberg Terminal.
LEARN MORE