Hot and Cold
Keurig Turns the Tables on Coke
JAB is carrying out Coca-Cola's vision through the merger of Keurig and Dr Pepper. Coke should prepare a counter-move.
By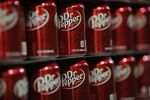 DR PEPPER SNAPPLE GROUP INC
+0.56
At Closing, February 23th
Coca-Cola Co.'s idea for a hot-and-cold beverage mashup is playing out without the soda maker. 
Keurig Green Mountain Inc., the soda-maker's erstwhile partner on a single-serve cold-beverage machine, is now merging with Dr Pepper Snapple Group Inc. The combination follows Coke's sale of its 17 percent stake in Keurig via the 2016 buyout by JAB Holding Co. and the eventual discontinuation of the Keurig Kold (as the home-soda venture was dubbed) amid an underwhelming customer response.
Dr Pepper shareholders will receive a special dividend of $103.75 a share for a total cash consideration of $18.7 billion, plus a 13 percent stake in the surviving merged entity. JAB, which has also acquired Panera Bread Co.and Krispy Kreme Doughnuts Inc. in its food and beverage takeover spree, will be the controlling shareholder of the combined company. 
The cash dividend Dr Pepper holders will receive is only a modest premium to the soda-maker's closing share price on Friday, but the real value is the opportunity to continue to own a piece of the merged entity and to share in the cost savings and revenue benefits. That's why Dr Pepper shares traded at about $119 -- well above the dividend--  in mid-morning trading on Monday.
Dr Pepper and Keurig are touting the benefits of their large distribution network as the first company with scale in both hot and cold beverages. The idea is to fill customers' needs -- whether it's that morning cup of coffee, flavored water or an afternoon energy boost -- in a variety of different formats wherever they might shop, from Amazon.com Inc. to Wal-Mart Stores Inc. to CVS Health Corp. stores. Integrating warehousing and transportation processes is one factor in the $600 million of cost savings Dr Pepper and Keurig are targeting -- a huge number at about 5.5 percent of their combined revenue.
The pitch is eerily reminiscent of what Coke said as it backed the Keurig Kold venture. "It's all about the choice," former Coke CEO Muhtar Kent said in 2015. The soda company has to be a bit frustrated as JAB essentially takes its initial strategy with Keurig and runs with it. Many had speculated Coke's stake was a precursor to an eventual Keurig buyout. Instead, Coke made a small profit of about $25.5 million in the JAB buyout and moved on.  
There's no guarantee that JAB will do any better than Coke did at integrating hot and cold beverages; it's worth noting that Dr Pepper was also a partner in the flopped Keurig Kold, although to a lesser extent financially than Coke. But JAB does seem to have made decent progress in getting Keurig on better financial footing. While net sales have declined over the past two years as a result of price reductions, Keurig is selling more of its pods and has machines in more households. Keurig has also been able to improve its operating margin by cutting costs.
JAB's java forays have given it the nickname "the Budweiser of Coffee." As it muscles in to other parts of the beverage industry, Coke should prepare a counter-move.
To contact the editor responsible for this story:
Beth Williams at bewilliams@bloomberg.net
Before it's here, it's on the Bloomberg Terminal.
LEARN MORE