Presidents Club Fallout
Don't Waste the Latest U.K. Sleaze Crisis
Investors shouldn't waste this crisis.
By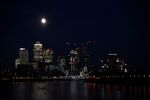 U.K. business swiftly condemned misogyny and sexual harassment when the Financial Times lifted the lid on a sleazy men-only charitable event held recently at London's Dorchester hotel. But companies could be doing more to prove they mean what they say. Investors have the leverage to turn telling into showing.
The Presidents Club dinner, with its skimpily dressed hostesses and alleged groping, was unusually blatant, and the list of invitees seems to have been weighted to one sector, property. But the furore provides investors across the board with an opportunity to demand better disclosure on corporate culture in general and harassment in particular.
It's never been easy for outsiders to test a company's claim to promote an inclusive culture. Misbehavior either goes unreported or is kept under wraps. Just as the Presidents Club hostesses were reportedly subject to non-disclosure agreements, similar arrangements are often used to keep discrimination and harassment settlements private. NDAs are a particularly knotty problem to unravel: they can protect claimants as much as wrongdoers.
Against that backdrop, it's still possible for investors and management to have better information on corporate culture. Revealing the gender pay gap and the number of women in senior positions is just the start. Some small changes to the annual report could go a long way.
Step one. Do more to encourage staff to report suspicions of wrongdoing. "Whistleblowing" hotlines still have a pejorative hint of snitching. When Johnson Matthey Plc renamed its whistleblowing service "Speak up," more employees used it. The chemicals company also sets another good example by providing a detailed breakdown of the reasons staff used the hotline. Discrimination and harassment happen to be the single biggest.
Step two. Make a "culture audit" as common as calculating the carbon footprint. Hire an independent firm to do anonymous employee satisfaction survey that goes beyond standard questions like "Is this a great place to work?" Put the results in the annual report. This should go much further than the current cursory narrative found in the section on "Our People."
Finally, make bosses accountable for fostering an inclusive environment. A decent chunk of the boss's bonus could usefully be tied to measurable cultural goals. And right now, investors probably have no idea who signs off on the chairman's and the CEO's expenses. It would be good to know that someone is responsible for checking that their entertainment is appropriate.
The outcry over the FT's revelations will clearly focus minds. Boards really sit up when shareholders stamp their feet. Investors should use their leverage to ensure that this crisis doesn't go to waste.
To contact the editor responsible for this story:
Jennifer Ryan at jryan13@bloomberg.net
Before it's here, it's on the Bloomberg Terminal.
LEARN MORE