GUARDED OPTIMISM
A Fox for Commonwealth Bank's Henhouse
In appointing Matt Comyn, the Australian lender is betting it can grow past its scandals without deep-rooted change.
By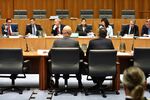 There's a well-thumbed playbook for scandal-plagued banks when picking chief executive officers: Like a sinner getting religion, the trick is to find a saintly figure untainted by previous dalliances.
Think Michael Corbat at Citigroup Inc., a studiedly bland executive who gave up his office for a cubicle and hired an on-call ethicist. Or John Cryan at Deutsche Bank AG, whose disdain for bonuses and reputation for steadfast, even sanctimonious, integrity has rubbed up against more red-in-tooth-and-claw colleagues. Tidjane Thiam came to Credit Suisse Group AG with a background in staid old insurance, and once gave up a high-flying corporate career to work, occasionally unpaid, as a bureaucrat and politician in his native Ivory Coast.
Commonwealth Bank of Australia isn't following that path in replacing Ian Narev, who announced his departure last August after the government's money-laundering regulator alleged the lender had failed to report tens of thousands of suspicious transactions.
Matt Comyn, named as Narev's replacement Monday, is anything but an outsider. He's spent almost his entire working life at the bank (a defection to run Morgan Stanley's local retail broking arm in 2010 saw him poached back after six months). Since 2012 he ran the consumer bank, leading the rollout of innovative but easily manipulated cash machines that are at the heart of the money-laundering case. He was one of the 12 executives who had his short-term bonus cut to zero as a result.
Asked on a media call Monday to explain the decision to pick an insider, Chairman Catherine Livingstone said that Comyn came out with the highest marks in terms of the board's search criteria, and that he would get up to speed more quickly in carrying out the necessary culture change.
There's something to be said for that -- but the mood music from Livingstone, Comyn and Narev spoke of other considerations. Incredibly, while Livingstone had much to say about the bank's need to restore public trust, the two men spent barely a dozen words of their prepared statements on the call addressing the cultural and regulatory issues that caused CBA shares to suffer one of their worst-ever months in August. Comyn focused on a tribute to his predecessor and a promise to provide "a sharp focus on our core purpose" -- better serving the customer.
That sounds nice, but in the context of CBA's recent problems it suggests little has changed. Compliance is usually difficult and internally unpopular in banks precisely because it irritates the smooth relationships they want to have with their customers. Nonetheless, it's fundamental. 
Customers don't like filling out laborious identity-check forms or being treated with suspicion every time they deposit large sums of cash -- but that's how you prevent money-laundering. Nor do they like being turned down for loans, even if doing so would be in their best interests. Making customers' lives easier was the rhetorical justification offered for technological innovations like the high-tech ATMs promoted by Narev and Comyn, before they turned into a legal liability.
Given CBA's enviable record of profitability and steadily growing market share, picking an internal candidate looks like crossing fingers that current problems will evaporate without anyone having to slay the goose that's been laying golden eggs.
That may be a reasonable bet. Cultural change in the vast empire of a top-tier bank is a thankless, potentially futile task. When Barclays Plc decided to rejig a culture driven by its hard-charging investment bank in 2012, it gave the CEO job to Tony Jenkins, a gray figure from the retail side. Three years later he was driven out to be replaced by Jes Staley with a mandate to build the investment bank back up again.
CBA's shareholders appear sanguine -- the stock is down only about 6 percent since the money-laundering case was lodged, and rose 0.7 percent Monday on news of Comyn's appointment.

The bet investors are making is that the bank can grow past its problems with some judicious pruning and grafting, rather than a root-and-branch reform. They'd better hope they are right.
To contact the editor responsible for this story:
Matthew Brooker at mbrooker1@bloomberg.net
Before it's here, it's on the Bloomberg Terminal.
LEARN MORE