Brexit Infighting Should Weigh on Sterling, But it Isn't
Negotiating risks and political infighting are far more important for the pound and the BOE than a spot of happy economic news.
By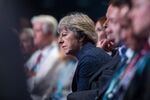 The pound has finally returned to its pre-Brexit referendum levels, and has dragged Bank of England rate hike expectations along with it. But investors should pay attention to what policy makers are actually saying rather than leap to conclusions.
It's not just the currency. Short-sterling interest rate futures have moved from pricing in between one and two 25 basis point hikes over the next 18 months, to expecting at least three. Several U.K economists, such as David Owen at Jefferies International, forecast another rate increase by May, and possibly as soon as March. 
There's a real danger that people are getting ahead of themselves. 
It looks like there's a view that the bank will want to deliver a rate increase as soon as possible, in order to give it room to deliver stimulus in case Brexit proves calamitous. Stronger economic data -- the fourth quarter GDP growth of 0.5 percent, and a 102,000 gain in employment in November labor-market data, both beat forecasts -- appears to be underpinning the turn. While the U.K. economy may be looking more resilient in the face of Brexit fears, it is far too early for the bank to accelerate policy tightening. 
A rate increase from the current 0.5 percent in the first half of 2018 would mark a radical shift from the bank's outlook on Nov. 2, when policy makers raised rates for the first time in a decade. At the time, officials were expecting just two more moves over their three-year policy horizon.
It's easy to forget, given that it was less than three months ago, but the November increase was no more than a reversal of the August 2016 emergency cut, which was a mistake. And at the end of last year the bank was keen to dampen expectations on a rate hike cycle -- one and done, with just 50 basis points more over three years, is as gentle as central bank guidance gets.
The big risk is if the political hair-pulling in the ruling Conservative party turns into a proper leadership challenge to Prime Minister Theresa May. That would probably put an instant stop to the Brexit transition talks, as well as the crucial trade talks. An important lesson from the Greek crisis is that European Union officials don't take kindly to changes in their negotiating counterparties. 
Political uncertainty and tough European divorce proceedings are a potential storm for the economy, and would be foolish to slow it down deliberately now with higher interest rates.
And, the economic rationale for hiking rates in the next few months is looking more precarious. Consumer credit, a key metric for officials' assessment of price pressures, is falling.
The irony of stronger sterling is that it will hasten the return of inflation, now at 3 percent, to the bank's 2 percent target. The gain in the currency's trade-weighted index since November should shave 0.2 percentage points off the one-year inflation forecast, according to Dan Hanson of Bloomberg Economics.
And hiking rates as the inflation outlook softens will take some explaining to the great British public, who have been suffering a real income squeeze for years.
The Monetary Policy Committee meeting on Feb. 8 will include the latest quarterly forecasts on inflation and growth. The panel ought to be satisfied that its November projection for inflation to finally top out has borne fruit.
Accordingly, it would take a radical shift in growth forecasts for officials to justify tightening policy more quickly. And while 0.5 percent in the fourth quarter was nice, it's hardly the first step on the path to overheating. 
Governor Mark Carney, in Davos last week, linked future rate hikes to progress on Brexit talks. Investors would do well to remember that as the one-year countdown to Brexit approaches.
To contact the editor responsible for this story:
Jennifer Ryan at jryan13@bloomberg.net
Before it's here, it's on the Bloomberg Terminal.
LEARN MORE