See You at the Shops
Defying Amazon by Saying No to Whizzy Tech
Discounters' great holiday sales show online isn't always the answer.
By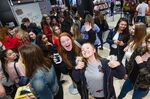 AMAZON.COM INC
+2.42
At Closing, February 22rd
TJX COMPANIES INC
+0.56
At Closing, February 22rd
Think you have to be online to succeed in U.K. retail these days? Think again.
Some of the winners over the crucial holiday period don't even sell via the internet.
Although Associated British Foods Plc's Primark suffered from the warm October -- as did its rivals -- its domestic sales were miles ahead.
It was a similar picture at the U.K. arms of the German no-frills supermarkets, which had a phenomenal Christmas, and variety store B&M European Value Retail SA. None has a full web offering. Only Aldi has a limited assortment online, covering just wine and non-food items.
The largely disappointing holiday trading updates for the high-street chains have stoked concerns over the future of physical retail. But the discounters show that stores are alive and well.
Gadfly has long argued that online sales don't come for free. For a start, there's the cost of delivery, which shoppers often don't fully pay for. Returned goods, meanwhile, are troublesome and expensive for retailers to deal with.
Then there is the constant investment in facilities to conjure up ever-faster shipping times. Just look at the amount of capital being consumed by the likes of Zalando SE and Asos Plc.
It's a similar picture in the U.S., where T.J. Maxx is one of the few value retailers to have ventured online. But its prices are higher than Primark's. And in parent TJX Cos Inc.'s latest fiscal year, it said e-commerce represented just 1 percent of sales and had an "immaterial impact" on revenue growth.
The discounters underline the fact that retailers can still thrive in a world where more and more shopping is moving online, provided they get back to some basic retailing: having attractive products at prices that customers are prepared to pay.
This means that store environments matter, too. Aldi and Lidl have been improving their supermarkets, for example by adding fresh bakeries. Though T.J. Maxx (known as T.K. Maxx in Britain) hasn't yet reported holiday sales, its historical strength suggests that its treasure-hunt-like atmosphere is still a powerful magnet to get shoppers into store.
Amazon.com Inc.'s push into fashion has raised the pressure for value chains to go digital. They should resist for as long as they can.
The economics of online are not going to improve for the discounters any time soon -- they're already at a disadvantage since the value of the their shopping baskets is smaller because of their lower prices. While they may be losing some shoppers who want the convenience of digital ordering, they risk hemorrhaging customers if they raise their prices to make online more palatable.
Primark dipped its toe into the water five years ago, selling only briefly via Asos Plc. It wanted to learn, and it did: The experiment convinced it that no other retailer could operate online at its low prices. Today, Boohoo.com Plc is closest to doing that. Consequently, ABF has to keep its options open. But there are no plans for e-commerce right now.
Discount chains have other levers they can pull. They can showcase their products on the web, without making those sites transactional. Primark, for example, uses social media expertly to communicate with its young, internet-savvy consumers, having more than 5 million Instagram followers.
Though cheap may be chic right now, when it comes to online, this is one trend that the discounters shouldn't rush to follow.
--With assistance from Gadfly's Sarah Halzack
To contact the editor responsible for this story:
Jennifer Ryan at jryan13@bloomberg.net
Before it's here, it's on the Bloomberg Terminal.
LEARN MORE