TV Land
Sports May Be the Ticket for Facebook's New Mission
They would champion the vaunted `greater sense of belonging' that Zuckerberg seeks. Never mind the irony of social media replicating TV.
By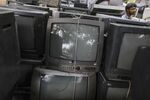 FACEBOOK INC-A
-0.96
At Closing, June 15th
If you tuned into the National Football League playoffs last weekend, you may have gotten a glimpse of Facebook Inc.'s strategy.
Mark Zuckerberg's company aired a television commercial to promote an upcoming documentary series about Tom Brady, the hated/loved football quarterback. The series will pop up starting Thursday in Facebook Watch, the company's relatively new TV-like digital hangout. (Put aside for a moment the irony of Facebook using television to promote its project that is trying to supplant TV.)
Facebook and other internet companies are serious about sports, but it's not clear how far their interest will go. Yes, Facebook in the last couple of years has been streaming some live games from professional baseball, soccer and college football, and it bid $600 million for the internet broadcast rights to an Indian cricket league. Plus some of the high-profile Watch programs are sports themed, including the Brady series and "Ball in the Family," about a meddling father and his basketball-playing sons. But it decided against competing to webcast Thursday night NFL games. 
This activity has made Facebook seem like it's putting a toe in the water rather than taking a full plunge into the sports deep end. There's an opening to change that thanks to Facebook's new mission to focus on "meaningful social interaction."
You can debate whether bickering about the Philadelphia Eagles' pass-rushing tactics counts as "meaningful," but it's indisputable that many people love to talk and socialize around sports. Just spend five minutes in a U.S. office during the March Madness college basketball tournament to confirm this. 
That means sporting events and sports-related entertainment programming are highly compatible with Facebook's new goal, and the Brady documentary is an intriguing clue into the possible role of sports in the company's evolving strategy. The question is how far Zuckerberg might go to make sports a centerpiece of his mission to connect the world within Facebook's digital walls.
Zuckerberg himself has talked up sports as a vehicle to unite people around shared interests. "We've found that communities formed around video like TV shows or sports create a greater sense of belonging than many other kinds of communities," he told stock analysts in November. Pressed for more details on Facebook's interest in sports, Zuckerberg said the company's views continued to evolve.
So what could Facebook do? The company could splurge more money on live sporting events, and figure out a way – as the savvy commissioner of the National Basketball Association has suggested – to come up with fresh ideas for sports viewing. Let's face it, catching a game on TV or on the internet is not that much different than the televised sports experience in the days when TV sets weighed almost as much as a Cadillac.
The good news for Facebook is that if it wants, the company can tilt the scales to favor its own sports-related activity. Other writers have noted that the recently announced changes to Facebook's news feed seem sure to diminish the audience for outside companies that make web videos for distribution on Facebook, and bolster the company's own video initiatives, Watch and Facebook Live.
If companies respond by publishing fewer videos on Facebook, or those videos don't circulate widely, it could pull both viewers and advertisers into Watch and Live. That gives Facebook an opportunity to push sports to an eager audience. Now that Facebook is open to running commercials before and in the middle of Watch videos, it has a familiar, TV-like way to generate revenue from sporting events or sports videos. 
I'm not convinced that Facebook or other tech companies will become the white knights for sports leagues worried about declining TV ratings and waning interest. Even if tech giants want to lure people with sporting events, they're unlikely to spend as much as TV companies do for contracts with guaranteed billion-dollar payments.
In principle, though, sports are exactly the type of activity that generates the intense, sustained human interaction that Facebook wants. Watching what Facebook does in sports might be a better drama than the upcoming Super Bowl. Because you already know Brady is gonna win, right?
A version of this column originally appeared in Bloomberg's Fully Charged technology newsletter. You can sign up here.
To contact the editor responsible for this story:
Daniel Moss at dmoss@bloomberg.net
Before it's here, it's on the Bloomberg Terminal.
LEARN MORE