Currency Wars
U.S. Efforts to Weaponize the Dollar Are Doomed to Fail
But Mnuchin's comments don't make Mario Draghi's life any easier.
By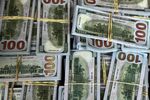 "It's our currency, but it's your problem" John Connally, Richard Nixon's treasury secretary, told the world in 1971. Almost half a century later, his successor Steven Mnuchin has basically delivered the same message at the World Economic Forum in Davos, Switzerland. But it's the market, not governments, that sets values in the foreign exchange arena.
"Obviously a weaker dollar is good for us as it relates to trade and opportunities," Mnuchin told reporters in Davos on Wednesday. The currency's short-term value, he said, is "not a concern of ours at all."
Coming hot on the heels of President Donald Trump's decision to slap tariffs on imported solar panels and washing machines, Mnuchin's comments have stirred concern that the U.S. administration will weaponize the dollar as part of a trade war. "It's not time to have any kind of currency war," International Monetary Fund Managing Director Christine Lagarde said in a Bloomberg TV interview with Francine Lacqua and Tom Keene.
On the face of it, the sliding dollar adds to Mario Draghi's policy dilemma. As my Gadfly colleague Marcus Ashworth argued on Monday, the European Central Bank president has a difficult tango to perform in the debate about when to end quantitative easing as the euro zone's economic rebound continues.
On a trade-weighted basis, the euro is up by about 10 percent in the past year. It would be hard to argue that its ascent doesn't reflect the improved economic backdrop Draghi is currently operating against.
But a stronger euro puts downward pressure on inflation, which the ECB needs to accelerate from the 1.4 percent December rate to meet its target of consumer prices increases that are close to but below 2 percent. If Draghi tries too hard to talk the euro down at Thursday's press conference, he risks inflaming the situation -- which could backfire by instead driving the dollar even lower.
Mnuchin defended his comments on Thursday morning, calling them "consistent with what I said before."
He's right; in January 2017, shortly after his confirmation hearings, Mnuchin wrote in response to a question from a senator that "from time to time, an excessively strong dollar may have negative short-term implications on the economy."
A bit more historical context may help here. Robert Rubin started the game of chanting the strong dollar mantra in the mid 1990s. It became a shibboleth for his successors.
"When we get ready to change dollar policy, I'm going to rent Yankee Stadium and get a marching band so you all will know we are changing," Paul O'Neill said when he held that post in 2001.
But in 2008, once he was out of office, O'Neill made the following confession:
When I was Secretary of the Treasury I was not supposed to say anything but `strong dollar, strong dollar.' I argued then and would argue now that the idea of a strong dollar policy is a vacuous notion.
As vacuous notions go, the idea that values in the currency market can be talked higher and lower on anything other than a temporary basis by the guardians of financial stability has a potency that ignores their failure over the years to achieve any such goal.
Nevertheless, with the foreign-exchange world watching more closely than ever, Draghi will need all of his rhetorical skills to tiptoe around the currency questions that will undoubtedly come his way on Thursday.
To contact the editor responsible for this story:
Jennifer Ryan at jryan13@bloomberg.net
Before it's here, it's on the Bloomberg Terminal.
LEARN MORE