Drop of the Black Stuff
Guinness Is a Tempting Tipple for Thirsty Hedge Funds
Weak sterling has helped protect Diageo from activists. But things are changing.
By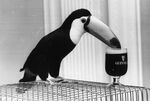 DIAGEO PLC
+29.50
At Closing, February 16th
Two years ago, Diageo Plc looked like the perfect tipple for an activist investor. Then Britain voted to leave the EU and -- with 94 percent of its revenue in currencies other than sterling -- the company got a lucky boost from a slumping pound.
The shares have risen almost 50 percent since June 2016, weakening the activist case, and easing the pressure on chief executive Ivan Menezes.
But sterling's recovery and the dollar's Mnuchin-approved weakness is reversing some of those gains. The company said on Thursday that adverse currency movements would hurt full-year sales by 460 million pounds ($657 million), and operating profit by 60 million pounds.
The operating performance has been pretty resilient too, with organic sales growth ahead of expectations in the six months to December 31. However, the company is continuing to struggle to revive North American vodka sales.
Meanwhile, Diageo -- now chaired by private equity and drinks industry veteran Javier Ferran -- is doing many things an activist would. That includes cutting 700 million pounds of costs by June next year. The aim is to lift the organic operating margin by 1.75 percentage points, while expanding revenue by a mid-single digit percentage.
It's also making its balance sheet more efficient, with a 1.5 billion pound share buyback. All straight out of the activist playbook.
Duncan Fox, a Bloomberg Intelligence analyst, says Diageo could cope with net debt at three times Ebitda. It's about two times now. That might mean further deals -- like the $1 billion purchase of the George Clooney-backed Casamigos tequila brand -- or more money to hand back to shareholders. Diageo still generates a lot of cash.
There's one area, though, where an actual activist would probably push harder: selling stuff. Menezes has got rid of peripheral assets, such as the Gleneagles golf resort and most of the company's U.S. and U.K. wine assets. But he's still reluctant to part with Guinness. The rationale is that it's a gateway into Africa for Diageo's spirit brands.
With asset prices high, an aggressive shareholder might be more tempted by the potential valuation of the beer business -- Bernstein has said in the past that it's worth 7.4 billion pounds -- than any strategic justifications.
Diageo is taking many sensible steps to deter the type of U.S. hedge fund agitators who are circling Europe's consumer giants. But with the froth from weak sterling coming off and the U.S. vodka dry patch looking intractable, it's by no means attack-proof.
To contact the editor responsible for this story:
James Boxell at jboxell@bloomberg.net
Before it's here, it's on the Bloomberg Terminal.
LEARN MORE