china shop
Don't Bank on This Runaway Bull
When even bullish analysts can't keep up, it's time for caution.
By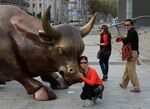 BANK OF CHINA LTD-H
-0.01
At Closing, June 15th
Bankers get a bonus and I have a job because we're still in a bull market. 
But the fast and furious rise in China bank stocks is making even this Hang Seng Index bull nervous.
Recall the mainland's stock frenzy in the spring of 2015. Lenders were the laggards then, but once they started climbing, the rally soon went belly up.
Now, major lenders are leading the record-breaking 19-day run in Hong Kong's H shares. Collectively, the nine banks on the Hang Seng China Enterprises Index already have risen over 20 percent this year, contributing more than half of the benchmark's gain. Investors didn't even flinch when the government this month slapped a 462 million yuan ($72 million) fine on Shanghai Pudong Development Bank Co. for hiding nonperforming assets through 1,493 shell companies. 
Are China's largest banks getting safer or is this the beginning of the end?
Analysts are betting these institutions will emerge as winners of China's deleveraging campaign. Faithful followers of policy, the big four -- Industrial & Commercial Bank of China Ltd., Bank of China Ltd., China Construction Bank Corp. and Agricultural Bank of China Ltd. -- have stayed away from shadow banking, the primary target of the clampdown. In the first half of 2017, the quartet's exposure to off-balance-sheet lending was a negligible 2 percent, versus 17 percent for other listed banks, Deutsche Bank AG estimates.  
In addition, a reduction in the reserve ratio for lenders that engage in "inclusive financing" kicked in on Jan. 1. As I argued at the time of the October announcement, this cut was a large-scale monetary loosening that will free up big banks' deposits for new loans and boost their profits. Indeed, the one-month Shanghai interbank offered rate has come down to 4.1 percent this month from as high as 4.9 percent in December. 
But rosy expectations are already baked in. The shares are rallying so fast that even analysts, who have been raising their price targets, no longer see any upside.
Let's face it: Much of the strength in bank stocks has more to do with flows than fundamentals, and we can thank Donald Trump for that. The greenback seems to be going only one way -- straight down -- as administration figures from the president to Treasury Secretary Steven Mnuchin extol the virtues of a weak dollar. 
That's making H-share bank stocks, with their yuan-denominated earnings and generous dividend yields of 3 to 4 percent, suddenly more attractive to hot money from the mainland. After a 6.9 percent rally last year, the yuan has appreciated 2.8 percent against the dollar in 2018 to reach its November 2011 high. 
One argument that sector analysts like to make is that if a bank's bad-loan book is no longer a concern, the relevant valuation metric should shift from price-to-book to price-to-earnings. While Japan's banks are the world's cheapest by book value, China's large caps are by far the most unloved by earnings standards. 
This is false comfort, because any new regulations can cause profits to tank. Beijing has been talking about deregulating deposit rates for years, and this threat is as real as ever. As China opens its doors to foreign banks, competition for consumer deposits will only go up, not down. The cheap funding enjoyed by large banks -- currently 0.3 percent for demand deposits -- may soon disappear. When that day comes, their margins will look a lot less comfortable. 
Sure, it's not pleasant to bring up the 2015 bust during bonus season. But after you've had a "melt-up," to use a favorite word of strategists, a meltdown may be unavoidable.
To contact the editor responsible for this story:
Matthew Brooker at mbrooker1@bloomberg.net
Before it's here, it's on the Bloomberg Terminal.
LEARN MORE