Foot fall
A Shopped-Out Singapore? Believe It
The national pastime is slowly shifting from turf to surf.
By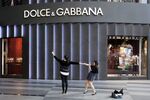 Predicting the demise of shopping in Singapore isn't a whole lot different from shorting Japanese government bonds: It's a widowmaker trade.
Yet I promise to persevere with my thesis that the city-state's national pastime is passé. Amazon.com Inc.'s Prime has launched, and between its offerings and those of Alibaba-backed Lazada Group SA, wide variety and tempting discounts are beginning to upend mall economics.
Mind you, being a retail landlord in Singapore is still rewarding, as underscored by CapitaLand Mall Trust's 2017 results, released Wednesday. What's not to like about four straight years of 5-percent-plus distribution yields from holding a piece of the city's first and oldest real-estate investment trust?
Dig a little deeper into the REIT's business, though, and some cracks appear. Shopper traffic declined 0.3 percent from the previous year, and tenants' sales saw zero growth. This is happening as Singapore retail -- excluding motor vehicles -- is in its second year of recovery, after slowing the previous three years.
What's going on? Part of the answer lies in micro-markets. CapitaLand Mall's 30 percent share in Westgate saw a 9 percent decline in valuation last year. It was the only mall in the trust's portfolio to drop in value from the previous year. And that was because its Jurong East location has been hurt by a multi-year meltdown in the city's oil-services industry.
While the area might get its buzz back as global energy prices firm up, it's unlikely the shift in Singaporeans' shopping habits will be just as easily reversed.
Leave aside Westgate. In 2016, tenancy renewals that typically occur after three years involved rent increases of 3 percent or more for six of CapitaLand Mall's properties. In 2017, only one mall was in such high demand from tenants: Atrium@Orchard. That's because it sits smack in the heart of the city's tourist district. The overall rental reversion rate declined 1.7 percent last year, compared with a 1 percent increase in 2016.
The other worry is indigestion. Just as Louis Vuitton and Prada stores in Hong Kong give way to bars and restaurants -- as chronicled by Bloomberg News reporters Frederik Balfour and Daniela Wei -- the share of food and beverage in CapitaLand's rental income from Singapore malls has risen to 31 percent from 27 percent three years ago. If this slow creep continues, it's only a matter of time before REIT dividends turn less juicy and investors lose their appetite.
There's speculation that the 7 percent goods and services levy may be increased in next month's government budget. That would hit consumer spending. Fearing the straw that breaks its back, the Singapore business community wants e-commerce to be taxed instead.
Yet no amount of leveling of the playing field will restore the glory of bricks and mortar. Surfing Lazada when the boss isn't looking is the new national pastime.
To contact the editor responsible for this story:
Paul Sillitoe at psillitoe@bloomberg.net
Before it's here, it's on the Bloomberg Terminal.
LEARN MORE