Amazon Attack
Carrefour's Anti-Amazon Strategy Has a Deadly Pitfall
Bompard needs to be true to his word and invest in price cuts.
By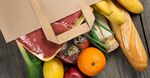 AMAZON.COM INC
+7.82
At Closing, June 18th
TESCO PLC
+1.50
At Closing, June 18th
It's a fight for customers. The need to return to a conquering dynamic to win a new battle.
Slash your way through the showy language in Carrefour SA's statement and it's not hard to figure out who the unsaid adversary is: Amazon.com Inc.
The French grocer on Tuesday unveiled its latest strategic blueprint to revive its business in the face of competition from both the online giant and nimble domestic bricks-and-mortar rivals.
But the plan set out by new Chief Executive Officer Alexandre Bompard looks a lot like that unveiled by Tesco Plc CEO Dave Lewis three years ago.
The common elements are big cost savings, thousands of job cuts, closing some head offices, lower capital expenditure, selling non-core assets and downsizing or closing stores.
Carrefour will also invest 2.8 billion euros ($3.4 billion) in digital with the aim of generating 5 billion euros of online food sales by 2022. It will open 2,000 convenience stores and aim to lift its sales of fresh and organic foods, all handy in capturing the millennial customer.
Carrefour shares rose as much as 6.5 percent. Investors clearly think that after several false starts under previous CEOs, this plan will work. Bompard's strategy looks sensible.
But a note of caution is in order -- shares in Tesco are little changed from when Lewis revealed his new plan in January 2015. 
True, Carrefour is not in such a perilous state as Tesco was when Lewis became CEO in September 2014: for one it is not facing a profit black hole.
While Lewis's approach has undoubtedly stabilized Tesco and lifted sales, it has not yet delivered a step-up in margins. Indeed, he set out another plan in late 2016 to lift profitability, and his 4 billion pound ($5.6 billion) takeover of Booker will ratchet up efficiencies.
Both leaders have the aim of improving competitiveness. But what Lewis's vision lacked was taking an ax to prices. Bompard should not make the same mistake.
Both Tesco and Carrefour face intense pressure, not just from Amazon but from competent traditional rivals. In the U.K. this includes the British arms of the German no-frills supermarkets, Aldi and Lidl, as well as domestic rivals Wm Morrison Supermarkets Plc and Wal-Mart Inc.'s Asda, both of which are getting their acts together.
In France, it is Leclerc SA, the privately owned low-price supermarket that has overtaken Carrefour as France's biggest grocer by market share.
Although Lewis has sought to keep Tesco's prices in check -- for example passing on less inflation than rivals and introducing a suite of own-label "farm" brands -- he missed a trick by not rebasing when he had the opportunity.
Carrefour's Bompard says he has every intention of investing in prices, such as by providing cheaper Carrefour-branded products. But he's giving the impression he's putting more emphasis on other elements of his strategy, such as e-commerce and fresh food.
He should make sure that his plan doesn't neglect value. After all, it's no use having the whizziest website or the fanciest organic offering if shoppers can find what they want cheaper elsewhere.
To contact the editor responsible for this story:
Jennifer Ryan at jryan13@bloomberg.net
Before it's here, it's on the Bloomberg Terminal.
LEARN MORE