Circling the Core
Catalonia Who? Spanish Debt Finally Basks in the Sun
The economy's strong and Rajoy needs to tread softly.
By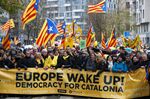 Spain is back. 
Regional strife with Catalonia held back gains for Spanish bonds and equities last year, but it seems now investors can happily live with political stalemate -- if the economy is booming and credit ratings are on the up. 
Fitch Ratings on Friday raised its rating on Spain to A- with a stable outlook, citing its "strong, relatively broad-based, economic recovery." Spain now has a realistic prospect of recapturing its glory years in the early days of the euro, when talk of a continental breakup was on no-one's lips and investors traded the sovereign as though its riskiness was not all that different from that of Germany and France, the core of the region. 
So it's perfect timing to capitalize on growing investor interest by raising money. And as if on cue, Spain may now issue about 9 billion euros ($11 billion) of 10-year debt as soon as Tuesday, Bloomberg News reported, as it has in every January for the last three years. Demand this time should be strong as it has 26 billion euros of maturing bonds and coupons to pay back at the end the month. 
And this week it will have the sovereign new issue field largely to itself, after its euro area peers found some success last week. Bar some long-dated supply from the European Financial Stability Facility, it is light on the regular government auction schedule as well. Moreover, there is good news to look forward to.
S&P Global Ratings may also upgrade its current BBB+ rating at its next review, on March 23. The grade already has a positive outlook. Having two of the main rating companies designating Spain with a rating around single A will bolster its presence in investment-grade bond indexes.
Spain has made major progress from the rocky start to this decade. Gross domestic product rose 3.1 percent in 2017, according to a Bloomberg survey, making it the third year that growth exceeds 3 percent. Forecasts for a slowdown are only natural after such a decent run, and the expansion should soon pick back up again. And it still beats Germany.
The premium of 10-year Spanish bond yields to Germany is the narrowest since 2010 -- and there is room for further gains. In the early years of the euro, Spain traded at a small premium to Germany, reflecting prospects for strong growth and its "semi-core" status within the European Union. Those times are returning.
The political turmoil in Catalonia kept Spanish debt from benefiting from healthy demand for fixed income in the second half of 2017 -- not so for Portugal and Greece, whose yields raced tighter.
While the independence movement is not going away, nor is it progressing. The secessionists' inability to make a substantive case for their cause has helped investors become more accepting of the risks of a breakup. For evidence, look no further than the fact that on the day the leader of the independence movement, Carlos Puidgemont, makes an attention-grabbing trip to Denmark, Spain considers a benchmark bond deal, and yields fall.
And Spain's normal point of comparison in the debt markets, Italy, faces a tough time. Investors are well aware of the risk that national elections in March could stoke populist fervor or produce no government at all. This makes Spain something of a haven in the short term.
Curiously, its ruling People's Party and Prime Minister Mariano Rajoy aren't getting the political benefit that should be their due from the economic turnaround. They are totally opposed to Catalonia seceding, and weren't afraid to use substantial force against voters in the referendum last year. But the main opposition party, Cuidadanos, was the single most successful party at Catalan's regional elections in December, and is now leading in the national polls. 
That puts Rajoy under enormous pressure to tread far more softly than he did last year on the independence question. A more diplomatic approach could have many benefits, including lowering the temperature around the issue. That can only be good news for investors in Spanish debt and equity. 
To contact the editor responsible for this story:
Jennifer Ryan at jryan13@bloomberg.net
Before it's here, it's on the Bloomberg Terminal.
LEARN MORE