No Pleasing Some People
Sanofi Is Damned If It Doesn't and Damned If It Does
Investors didn't like it when Sanofi missed out on deals. Now they don't like the one it's delivered.
By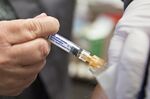 SANOFI
+0.16
At Closing, February 23rd
BIOVERATIV INC
+0.44
At Closing, February 23th
Investors have been hanging around for ages for Sanofi to do a big biotech deal. Now it's arrived, they probably wish they were still waiting.
Like many of its global peers, the French pharma group needs to do acquisitions to pump some growth back into its portfolio. But its risk-averse character has left it runner-up in recent auctions, being outbid by Pfizer Inc for Medivation Inc in 2016 and Johnson & Johnson for Actelion Ltd last year.
Have the failures left it desperate? Monday's all-cash agreement to buy hemophilia specialist Bioverativ Inc. for $105 per share, or $11.6 billion, contains a whopping 64 percent premium -- worth more than $4 billion -- over the target's last closing price. One could add another $1 billion to adjust for the sharp run-up in Bioverativ's shares during January.
The market doubts Sanofi can extract anything like this much value from the deal. Its market capitalization fell by about $3 billion after the announcement, to $109 billion.
Bioverativ is clearly not a transformational deal that solves all Sanofi's problems. Rather than buy a mesmerizing future drug pipeline, Sanofi is adding treatments that are producing revenue today and contain some reasonable growth over the next few years. The valuation multiple is a high 27 times expected earnings, and leverage jumps from less than 0.5 times Ebitda to 1.3 times Ebitda, constraining Sanofi's ability to pursue other deals.
There are no details to support Sanofi's claim that the takeover will generate returns exceeding its cost of capital within three years. It looks as if Sanofi will need to lift Bioverativ's expected operating profit of $740 million for 2020 by about one-third to deliver a high single-digit return. With cost cuts, at least that's plausible.
The trickier question is what happens in later years. This is a competitive and changing market. Expectations are high for Roche Holding AG's Hemlibra drug, which could be a significant challenger in this treatment area. Shire Plc shares have fallen nearly 30 percent since the beginning of last year after buying hemophilia specialist Baxalta.
So Sanofi has bought itself some needed growth, but with a less certain future. Investors have to take a lot on trust. Management has a good record in M&A -- the Genzyme deal of 2011 was a success -- and its history of discipline offers some comfort. It still needs to convince shareholders that this will look clever in five years' time.
To contact the editor responsible for this story:
James Boxell at jboxell@bloomberg.net
Before it's here, it's on the Bloomberg Terminal.
LEARN MORE