Hanging up
A Merger That Worked, Until it Didn't
Sebastian James' exit as Dixons Carphone CEO is no surprise.
By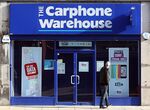 DIXONS CARPHONE PLC
+1.05
At Closing, June 18th
WALGREENS BOOTS ALLIANCE INC
-1.65
At Closing, June 18th
Dixons Carphone Plc was a rare example of a merger that actually worked. Until it didn't.
In August, Britain's largest electronics retailer warned of an unexpected drop in full-year earnings as fewer customers upgraded their mobile phones. The show of weakness at what was once the most resilient part of the business sent the stock down almost 25 percent.
So it's no surprise CEO Sebastian James is stepping down to take up a senior role at Walgreens Boots Alliance, Inc. James, who had been CEO for six years, was linked with the top job at broadcaster ITV Plc last year, so clearly had a move in mind.
But it's telling that the board had a replacement -- Alex Baldock, CEO of Shop Direct -- already lined up. Clearly, it had been planning for James's succession: to the point of appointing a headhunter to conduct a search.
The profit warning, which angered some investors, no doubt sped up the process. It dented the credibility of James and CFO Humphrey Singer -- who is joining Marks & Spencer Group Plc -- coming just shortly after they had tried to reassure the market.
James did a reasonable job, although he inherited a strong strategic plan from his predecessor John Browett and, until a year ago, had Charles Dunstone, founder of Carphone Warehouse, as chairman.
James's new role includes running Boots, a sizeable chunk of the Walgreens empire. Although he should bear in mind that other hires into the behemoth overseen by CEO and driving force Stefano Pessina haven't always fared well. Andy Hornby, the former CEO of HBOS Plc, lasted less than two years at Alliance Boots.
At Dixons Carphone, Baldock will bring digital experience, having transformed Shop Direct from a fusty catalog company into a slick online retailer. He also has knowledge of consumer credit, which could be useful given the escalating price of mobile phones.
He may be less well cut out for rallying the troops, something that James, with his effervescent personality and colorful turn of phrase, excelled at.
Either way, he will have his work cut out. While same-store sales rose 3 percent in the 10 weeks through Jan. 6, the mobile phone market is getting increasingly difficult as handsets get ever more expensive. The squeeze on household incomes is also deterring Britons from big-ticket purchases -- hence last week's profit warning from Carpetright Plc.
Dixons Carphone looks in disarray. As well as the departures of James and Singer, head of the services business Graham Stapleton has been named CEO of Halfords Group Plc. Carphone veteran and deputy CEO Andrew Harrison stepped down from the board to try to revive the mobile phones arm.
None of this bodes well for a company whose share price has fallen by almost 50 percent over the past year. Investors might cling to the hope that Dunstone, who still owns 11 percent of the company, might call and take it private -- but it could be an expensive wait on the line.
To contact the editor responsible for this story:
Edward Evans at eevans3@bloomberg.net
Before it's here, it's on the Bloomberg Terminal.
LEARN MORE