Merger Monday
AIG's Dealmaking Return Could Be Just the Start
In what may be a cue for others, the insurer's CEO has pushed back against the notion that buybacks create more value over the long term.
By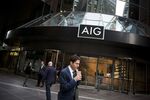 AMERICAN INTERNATIONAL GROUP
+0.24
At Closing, February 16th
Even if American International Group Inc.'s return to dealmaking has begun on an unexpected note, CEO Brian Duperreault is sticking to his word.
The New York-based insurer announced Monday that it had agreed to acquire Bermuda-based reinsurer Validus Holdings Ltd., which was somewhat of a surprise considering that smart money had been on AIG expanding its footprint in areas like life insurance in the U.S. or abroad. 
While the deal is undoubtedly pricey at a premium of almost 46 percent to Validus's closing price on Friday -- or a multiple of 1.5 the target's Sept. 30 book value -- the fact that it's set to immediately boost AIG's earnings and return on equity is hard to argue with. Notably, AIG declined to give analysts an exact range about how accretive the deal would be, but Bloomberg data estimates this to be at least 3.5 percent.
AIG's stock dipped on Monday, signaling some discontent among shareholders with the company's choice of target, which will provide it with entry to the volatile business of crop insurance, additional exposure to property catastrophe losses as well as a Lloyd's of London syndicate some 14 months after cutting ties with a similar arm. There may also be a level of annoyance that they missed hints that were hiding in plain sight. After all, Duperrault's background alone should have suggested reinsurance was in AIG's future: He grew Ace Ltd. (now part of Chubb Ltd.) in part by striking deals for reinsurance companies like Cat Ltd. and Tempest Re in the late 1990s. It's also a business that has previously been in favor with AIG. Remember, the company spun off its legacy reinsurance business Transatlantic Re and pared its stake in order to pay down the billions owed to the U.S. government as part of its crisis-era bailout.
Regardless, it's a positive first step for the 70 year-old Duperreault, who is making good on a promise made last May when he said: "I didn't come here to break the company up, I came here to grow it." By pursuing growth with an acquisition, he has rebuffed the notion that share buybacks are better for a company over the long-run. It's a stance that other CEOs in the S&P 500 and elsewhere may consider adopting, especially considering that he's able to pursue such a path with the apparent blessing of activist investor Carl Icahn, the insurer's fourth-largest shareholder. 
Importantly, this may be the first in a string of deals. Duperreault made comments on Monday suggesting that additional acquisitions weren't out of the question. As long as he remains thoughtful about these targets and future deals do in fact boost the company's earnings trajectory, it's a strategy that holds up. 
To contact the editor responsible for this story:
Daniel Moss at dmoss@bloomberg.net
Before it's here, it's on the Bloomberg Terminal.
LEARN MORE